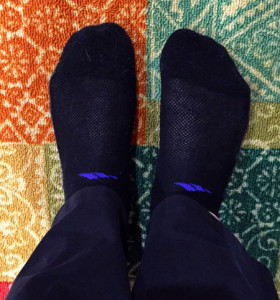 Yes, I am posting a day late. Work has been extra busy this week. My boss is on vacation and all kinds of unique and unexpected stuff came in that requires my attention. It's been a hectic few days.
I did think about this post yesterday. I even took the "Shoeless T-Mama" photo yesterday. I was hoping that moniker would have the same ring to it as Shoeless Joe Jackson.
It doesn't.
I don't wear shoes as much as most people, because I don't leave the house often. LOL. Working from home means I don't need shoes. Except for once a day when I walk the dogs. And that only lasts 30-60 minutes or so.
Usually, I just wear socks. Those pictured are my favorites, for what it's worth.
I do have a few pairs of favorite shoes, but they're sandals, and are all packed away for the winter. Not pretty, dainty, girlie things, Keen sandals. Like these…
I didn't know they came in purple!
I'm behind on my blog reading, too. Sorry folks. I'll catch up, I promise.
---
See how other BBBC 2016 participants
interpreted today's prompt.
How did the other brave, bold bloggers respond and/or interpret this daily challenge? See for yourself!
If there's no link in the above list, that blogger hadn't yet posted at the time of my writing. I'll do an update as soon as I can. You can always use the link to each blogger's home page in the list provided below.
---
This Year's Brave, Bold Bloggers…
Be sure to visit their blogs to see how each interpreted this challenge.