It's going to take quite a while for me to share trip highlights. I mean, have posted over 400 pictures on FLICKR from the Alps Touring Center segment alone! And there was the whole storm and 16-hour power outage…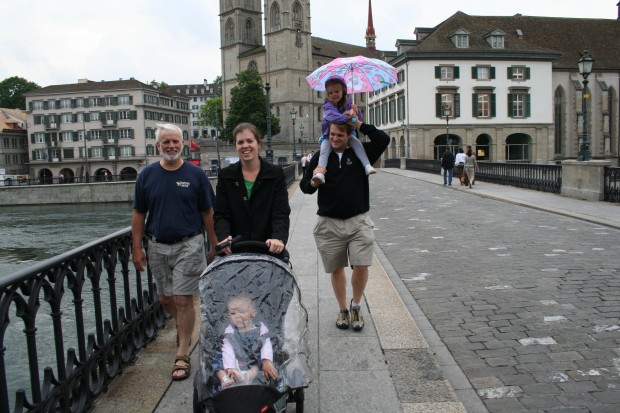 Anyway… as soon as we decided to go to Europe, we knew we just HAD to stop in to see Meghan, Brian, Marion and Betti aka the Swiss Family Mac. Meghan used to work with Hubby. She and Brian, two absolutely delightful people, embarked on a little ex-pat adventure just over two years ago. Brian works for a global accounting firm that likes its employees to have real international experience. The company allowed Brian and family (Marion was just 2 at the time) to relocate to Switzerland for a couple of years.
How cool is that?
When they left, they were a family of three. Just about 15 months ago, Betti arrived. And now they are a family of four!
Coincidentally, we arrived on their six year wedding anniversary, so on Saturday evening we all went out for a fabulous Lebanese meal to celebrate. Minus the children.
Sunday was gray and rainy, but we didn't let that stop us from a pleasant walking tour of Zurich.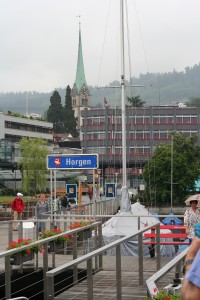 While Brian's office is in the city, they actually have an apartment in the charming suburb of Horgen (pictured at right).
It is technically a suburb, but Zurich has a pretty big metropolitan area, so it sort of seems like just another section of the bigger town. But Horgen does have its own history and identity. It also has a train station (bahnhof), serviced by local trains.
Other than our Saturday dinner, the train was our primary mode of transport between Horgen and Zurich. Although we did ride a tram around Zurich and a boat from Rapperswil, just outside of the city, back to Horgen on Sunday.
It's a shame that the weather was so dreary, because my pictures would have looked so much nicer. It really is a beautiful area. Each little town along the lake (and all over Europe, I think) has its own little church. As you can see in the picture below, the architecture is a mix of old (house at lower left and church at top) and new (apartment buildings on lower right). I much prefer the old, but somehow it all works together pretty well.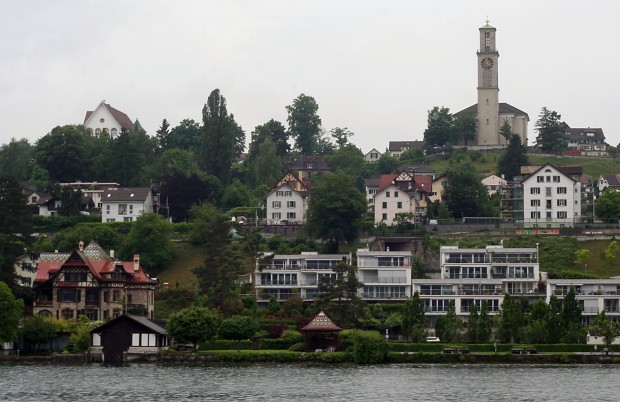 During our walking tour, we stopped at the Restaurant Zeughauskeller Zurich for a magnificent lunch. The building was first erected as an armory in 1487. In 1926/27, it was converted into this great little restaurant known for its fine Swiss cooking and traditional dishes.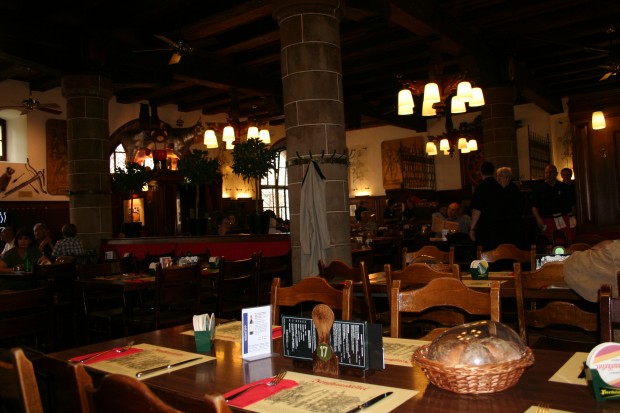 Not only is the food good, they serve very large beers.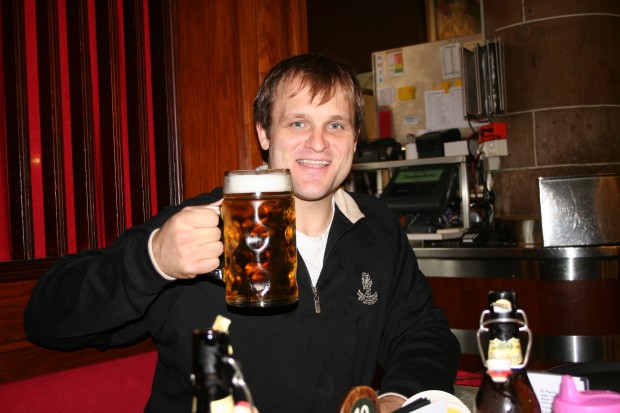 If you would like to see all of the Zurich shots, visit my FLICKR page. I'll get the rest of the pictures sorted and processed as soon as I can.