Now that I've mentioned this place several times, I guess it's about time to share more of the pictures. Although the motorcycle vacation was primarily about the ride (NOT the destination), the side trip to Shaker Village of Pleasant Hill [Kentucky] was all about destination.
Shaker Village is on the US National Park Service's National Register of Historic Places. That means, if you'd like to know a brief something about why Shakers would interest me, READ THIS. Actually, I'll tell you why they interested me, because I knew Hubby would get a kick out of seeing the old, restored buildings AND examples/demonstrations of Shaker furniture-making. That Hubby of mine is not only very handsome (and smart, and funny, and great at baking cinnamon rolls), he's also very good at woodworking. I should emphasize VERY GOOD. Not just 'cause he built us a house (I was the unskilled laborer), but because he can actually make furniture and other stuff, too.
In the "other stuff" category is this workbench, which he built to help with the furniture-making process.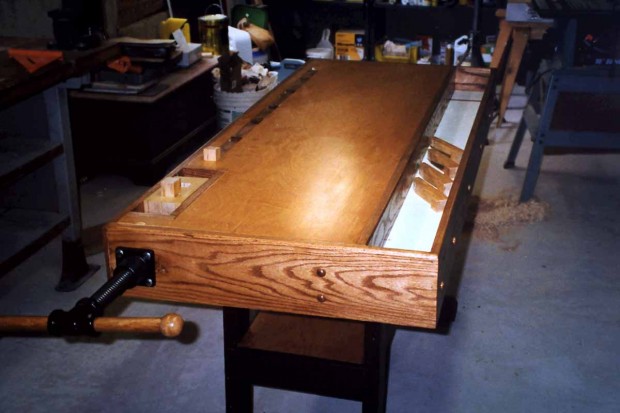 Then there's the very nice TV-surround thing he built in our family room.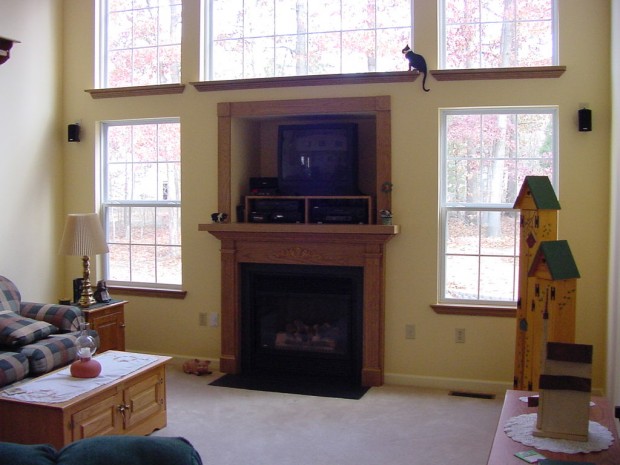 And here's our awesome (and huge) bed.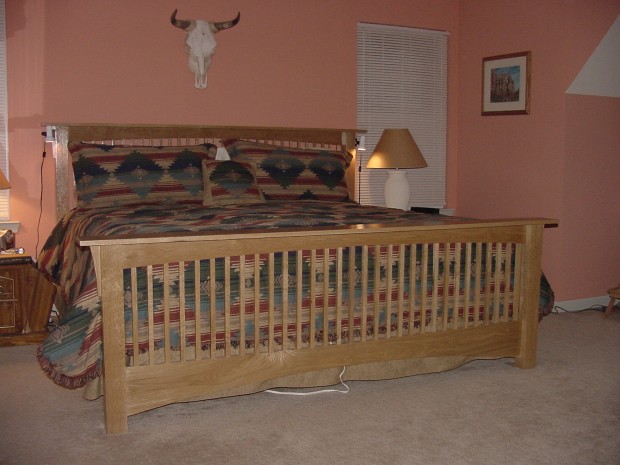 Since this picture was taken, he's also made two matching night stands. Our room is no longer Southwest-style either. I still like that look, we just got tired of looking at it. It's much more contemporary now. Anyhoo…
I knew Hubby would like the whole Shaker thing. So when I stumbled across the Shaker Village Web site, and saw it was not too terribly far away from the mountains, I thought it might be interesting. When I saw that there is an inn on the premises — The Inn at Shaker Village — I knew we HAD to go. The very brief description I saw of the place was enough to convince me.
"The Inn encompasses more than 70 guest rooms, suites and private cottages spread throughout 13 restored 19th century buildings. Inn accommodations feature Shaker reproduction furniture, hardwood flooring and private baths."
That's how I tend to do my travel planning. It's never all about me. I try to find stuff everyone can enjoy. Of course, learning there was yet another element to Shaker Village didn't hurt my decision either…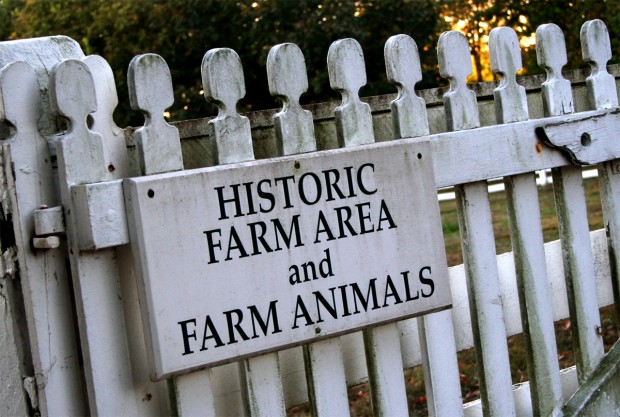 You know how I like critters. Especially cows. I just KNEW there'd be cows. That didn't influence my decision a bit. 🙂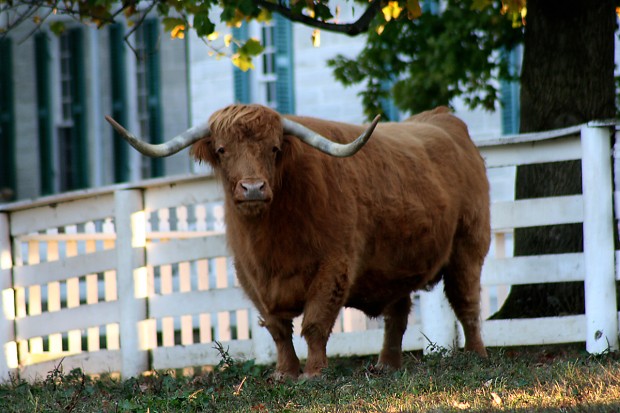 There was even a bull! Sort of. He looked like a bull. And was grumpy like a bull. But one of my coworkers informed me yesterday that my "bull" isn't a bull at all. It's a steer.
But back to the furniture thing. I should have said "woodworking" because there're also things like this spiral staircase.
That image above is just a snapshot. Again, this wasn't a ToadMama photography trip. It was a vacation for Hubby and I. So I just took a quick pic and moved on. If you want to see some cool pictures of the complete TWIN SPIRAL STAIRCASE, this link to some Flickr search results of other peoples' pics might work.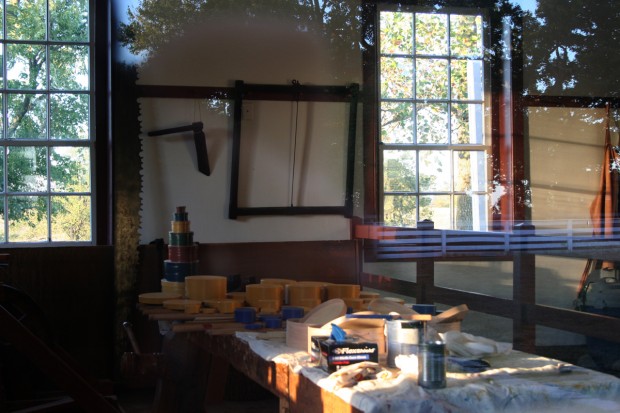 Of course all of the buildings featured those iconic Shaker peg rails. Even I knew what a Shaker peg rail/rack was. What I did not realize was that the rails went entirely around every room. What I also didn't realize is that the peg rails are far more than coat racks.
Check out the multi-holed candle sconce in that last image. You can't see the hole in the top of the clock because of the little placard, but the hole is there. Why? So the clock or candle holder in this case can be moved to wherever they are needed. The clock is set at a fixed height, but with five holes in the sconce, it can not only be moved around the room, but the height can be adjusted up or down.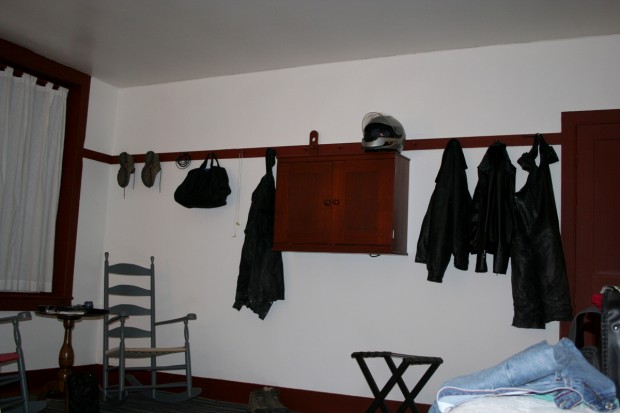 You'll note that the little cabinet, which houses the TV here, also has those holes/hangers. So even wall cabinets can be moved as needed.
Hubby had more fun pretending the pegs were all for hanging general stuff, though. He did a pretty good job filling the majority of the pegs in our sizable room (about 20′ x 20′ with room for two double beds).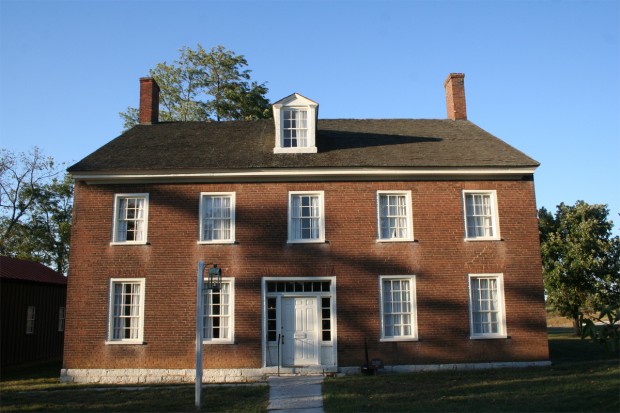 As you can maybe imagine, there were lots of interesting things to see.
I just love the clean lines of the buildings. And the colors, which are reminiscent (maybe even the reason for) colors typical of "primitive" country decor.
I just loved the dark, blue-black color of this outbuilding and MANY of the barns we saw throughout this particular region.
I forgot to mention the rock walls. Rock walls fascinate me. I'm not sure why. Other than the fact that I've always found rocks interesting AND love building stuff using Lego's.
Did I mention the cows?
The cows were either just very friendly OR they liked having their picture taken. Or both.
I commented to the same co-worker who let me know my bull isn't a bull, that she'd have to tell me why this cow has horns (those teats are made for milking! Remember the Nancy Sinatra song…"those teats are made-for-milking; that's just what they'll do; one of these days those teats are gonna shoot milk over you?). I thought only boy cows had horns.
My guess WAS that this was a steer (that's a boy cow, right?), until I learned that my "bull" is a steer. SIGH.
Can you tell I haven't spent much time on a farm?
Since I've already admitted to my lack of real farm animal knowledge, can someone tell me why this one sheep (or are they goats) appears to be spotted?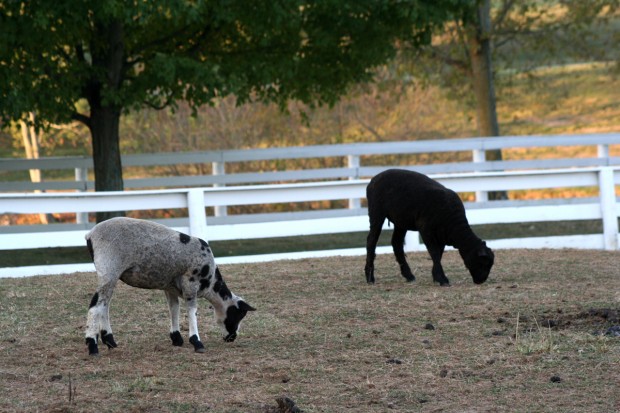 There's a pretty good restaurant at the inn, too. It was the best dinner we'd had all week.
If you enjoyed the few Shaker Village pics I shared here, be sure to view this Shaker Village Slideshow on my Flickr site.
And don't forget to COMMENT if you enjoyed today's post. An awful lot of my fans are very quiet.
Come on, people. Give me some comment love!