Upon learning that I had to be in Austin on a Thursday and Friday, I hatched a plan to stay for a few extra days and enjoy a mini road trip. After a never-ending, cold Winter, I felt I owed it to myself. Besides, not doing so would have just been silly, right? I'd been to Austin twice before, but had never had time to see much of the area.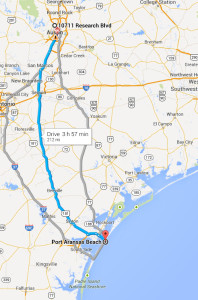 Plus, Austin is sorta close to the beach. All I could think about was SUN and WARMTH. And sand. I love the beach, but don't get to go much since Hubby isn't a beach type.
I had settled on a beach town in advance (Tracy had recommended Port Aransas) and knew there were some things in and around Austin I wanted to see, but I didn't really have an itinerary. I was anxious to reach the beach, but the weather forecast was rather iffy. So I figured I'd look around Austin and visit The Salt Lick barbecue on Saturday morning and then head for the Gulf coast.
Before I started working for a company based in Texas, I didn't know much about the state. For example, I didn't know Texas BBQ was it's own important food group. During one of my first trips there I ate at the airport location of The Salt Lick. It was fabulous. Tracy shipped a bottle to me, and Hubby became hooked, too. Of course, you can't buy that sauce anywhere in or near Virginia — it's even hard to find in Texas — so we have to have it shipped in regularly. That's the reason behind wanting to visit the original location.
The Salt Lick BBQ started in Driftwood, Texas. With a name like that, I figured it should at least be interesting. But I'm getting ahead of myself…
As I mentioned in my last post, I went into downtown Austin on Friday night. After seeing a glimpse of the pinkish-looking capitol building, I decided I should get a closer look on Saturday. On the way, I passed through the South Congress (SoCo) shopping district. I HAD to stop there first to get a picture of Lucy the Zebra (found her in my RoadsideAmerica.com app).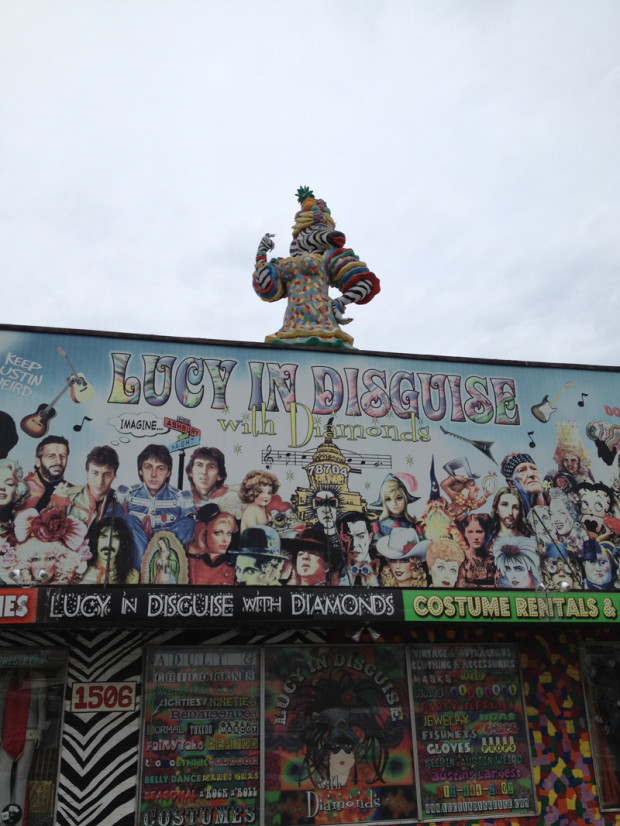 There were several funky little shops in SoCo. I looked through a couple, but most opened later in the day (I was there around 10:00). And I didn't feel like being indoors anyway. So I snapped some pics then headed deeper into the city. First, though, I detoured over to the river to see if there was a good waterfront view. There wasn't. But I did see this cute dog. It made me laugh to see him quietly people-watching (the hike/bike path went right past his apartment).
Don't you just love that expression on his face?
Before I go on, I have to say I culled through my pics and ended up with 60 to share with you. That's far too many for a blog post, so you'll have to visit my Flickr site if you want to see more. I'll share that link later…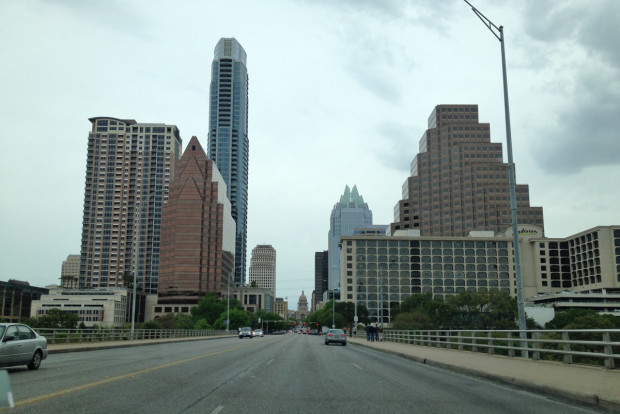 I was hoping to find a coffee shop in town. Most places were either closed on Saturdays (I was in the business district) or opened for lunch.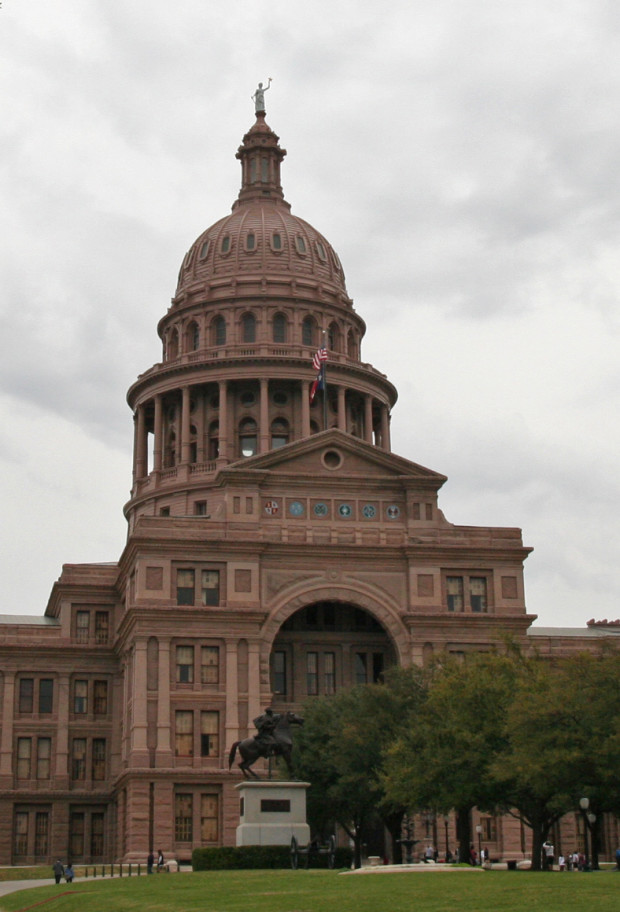 I hadn't planned on going into the capitol building. However, I figured a potty break would be a good idea before driving out to Driftwood.
The capitol really is pink as it appears. It was made from a pink-hued granite. Long story. Feel free to Google it if you care.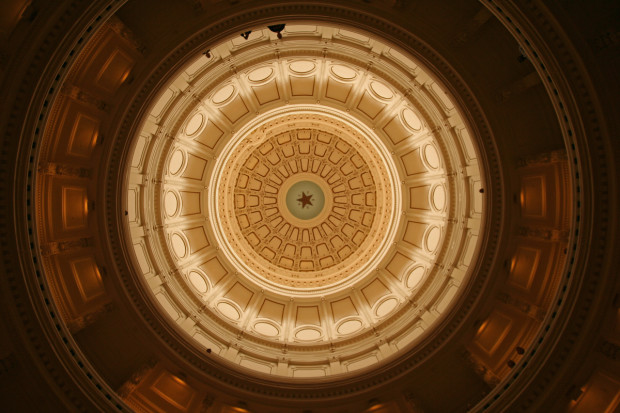 After gawking at the building a bit and snapping some photos, I headed out to the country. I really am not a city girl. I much prefer wide-open spaces.
It didn't take long at all to leave the hustle and bustle of the city behind. It was Saturday, remember. Had it been a weekday, I would have taken MUCH longer. Traffic around Austin can be a bit of a bear.
If you're interested in seeing the map of my route for the day, it's here.
Less than 30 minutes after leaving the capitol, I was in Driftwood.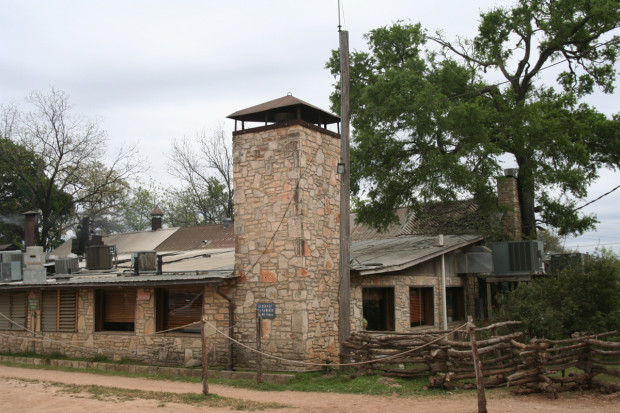 I'd arrived at The Salt Lick BBQ as planned, just in time for lunch.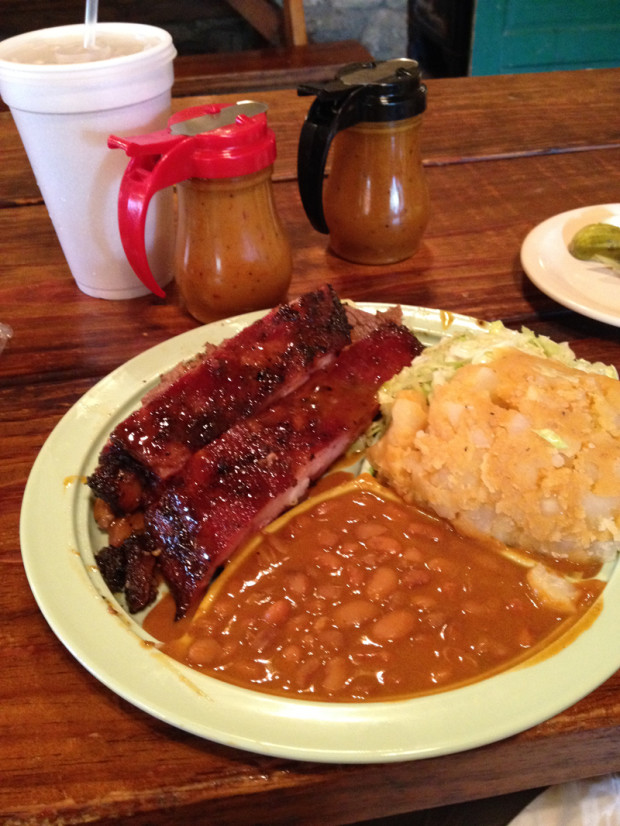 As expected, The Salt Lick was a bit of a tourist trap. The food was good. Very good, in fact. It just wasn't the best I'd ever had. I thought Rudy's brisket was better. And, if I'm being completely honest, my husband's ribs are better. The ribs at The Salt Lick had a good flavor, but they were a little tough. And that Hubby of mine makes kick-ass ribs. So I was judging The Salt Lick against some very high standards. Their sauce, however, remains my favorite. There's just nothing like Salt Lick BBQ sauce.
It would have been better with a beer, too. I still had a long way to drive, though. Oh, and I only ate about half of what you see there. I don't like driving on a full stomach.
Speaking of driving, my buddy, Bob (of RidingTheWetCoast fame) requested lots of pics so he could see what Texas looks like. Bob lives up in British Columbia, Canada.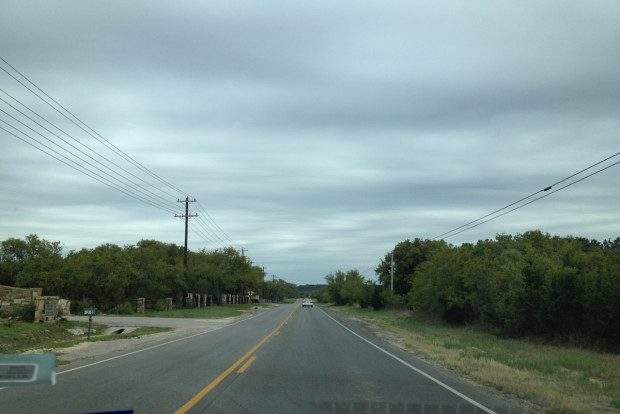 Most motorcyclists like back roads. Even when traveling in a car. Secondary roads are called either "farm to market" or "ranch to market" roads in Texas. I took FM-150 from Driftwood over to I-35. The first half of the route would be lots of fun on a motorcycle. It was a sorta curvy, undulating road with relatively smooth pavement. I wouldn't want to be on it in the rain, however, as there were several low creek crossings with water depth markers, which makes me believe it floods a lot when there's rain.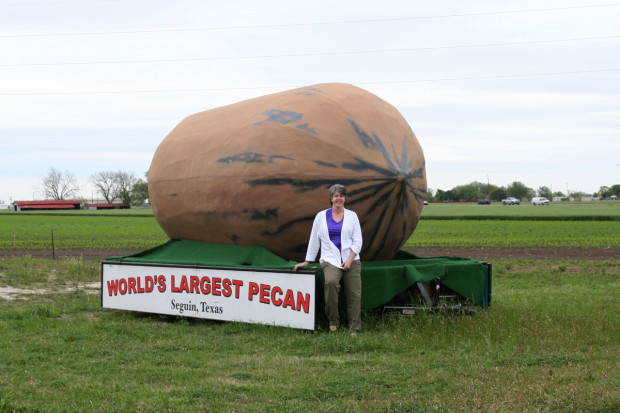 The cool thing about traveling solo is that you can stop whenever you want to for whatever reason. And you don't have to feel even a little guilty stopping quickly and often when there's something you simply MUST capture with the camera.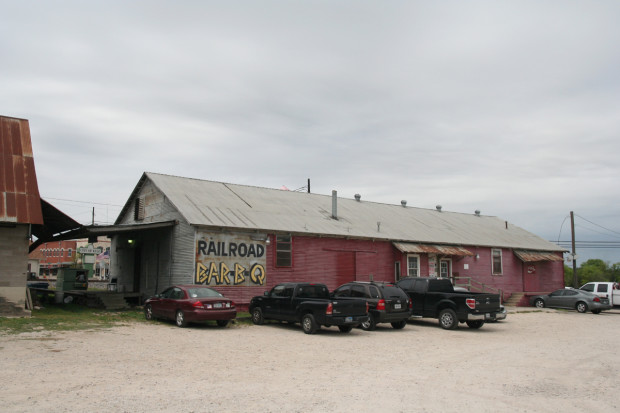 I don't think I mentioned that the wildflowers were in bloom. Bluebonnets (the Texas state flowers) were in bloom everywhere, along with Texas Paintbrush (red), Indian Blanket (red with yellow), Greenthreads (yellow), Winecups (pinks), and Primrose (yellow) seemed to be the predominate flowers. But practically everywhere you looked there was color. The trees were freshly green, too.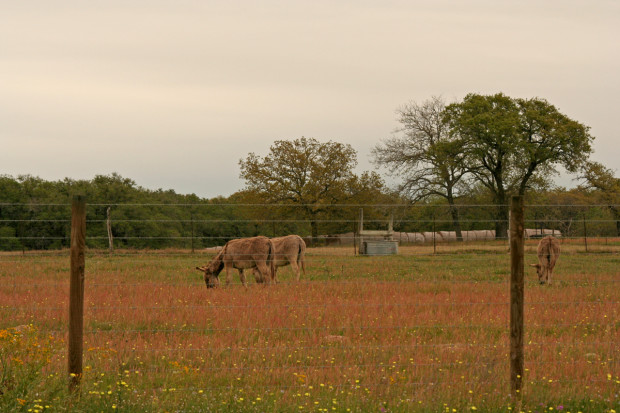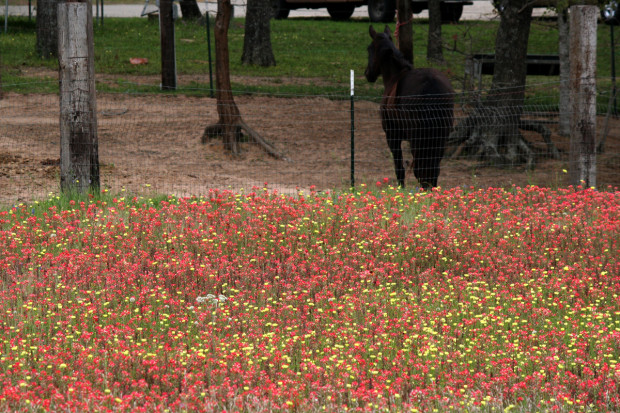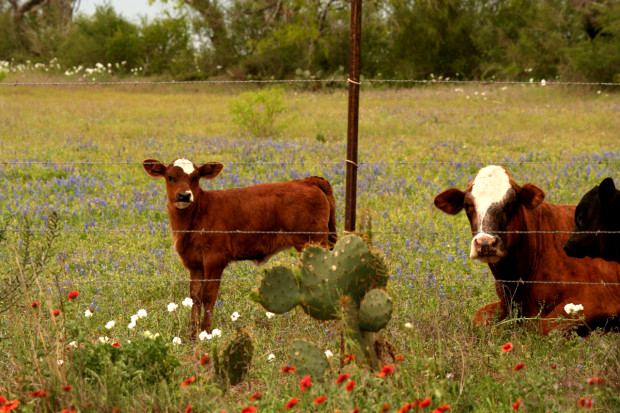 I took quite a few shots of that cute cow until this rude heifer came along. She made me giggle…

I did say I took lots of pictures, right? LOL. Here are a few stand-outs/oddities…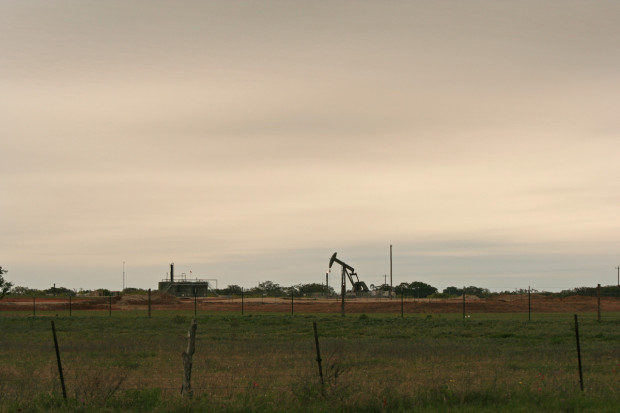 Those are also called Pump Jacks (among other things). Yes, I had to Google it.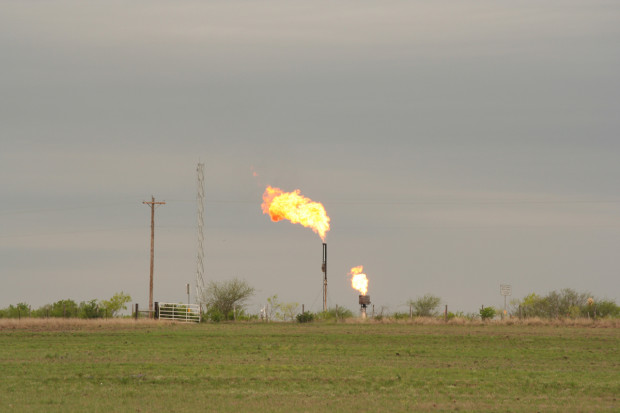 I assume those are oil-related. Why there needs to be a giant, burning blow torch in the middle of a field is beyond me.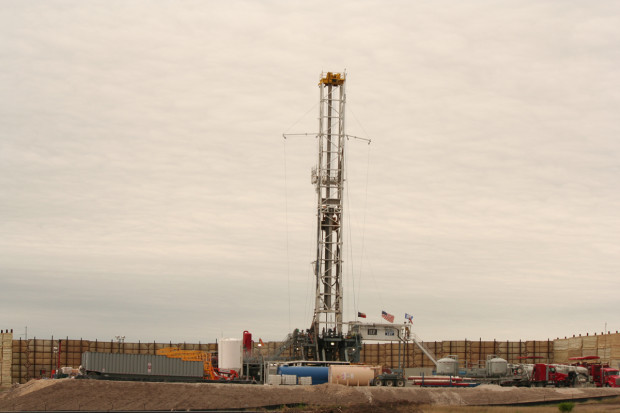 I saw lots of pick-up trucks, too. And cows. A lot of cows. But who's complaining?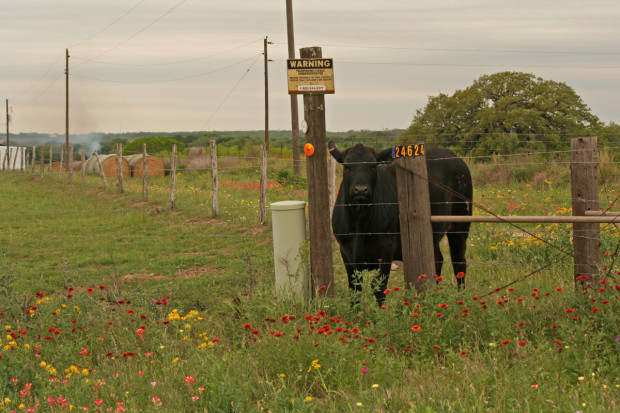 One thing that struck me, particularly as I got closer to the coast, was the rich, dark-brown color of the earth.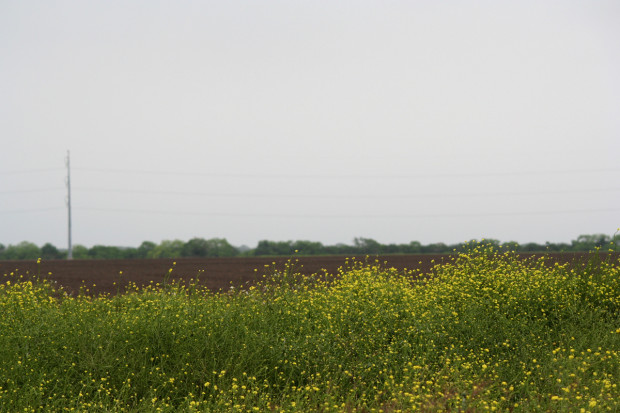 I can't help it, I like cows.
When I passed this next field of cows at about 75 MPH (speed limits are high in Texas), I HAD to do a U-turn. Despite the rain, even.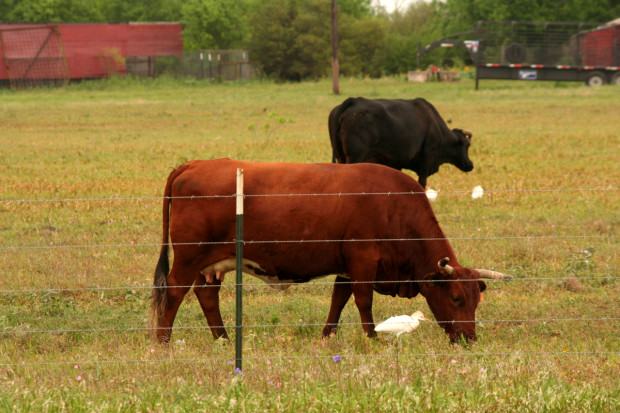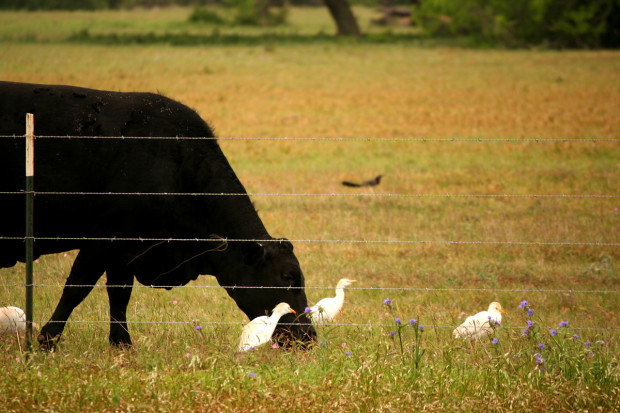 Those are Egrets hanging out with the cows. Cattle Egrets to be exact. (Thank you, again, dear Google.)
Cattle Egrets hang out with the cows and eat the bugs stirred up as the cows graze.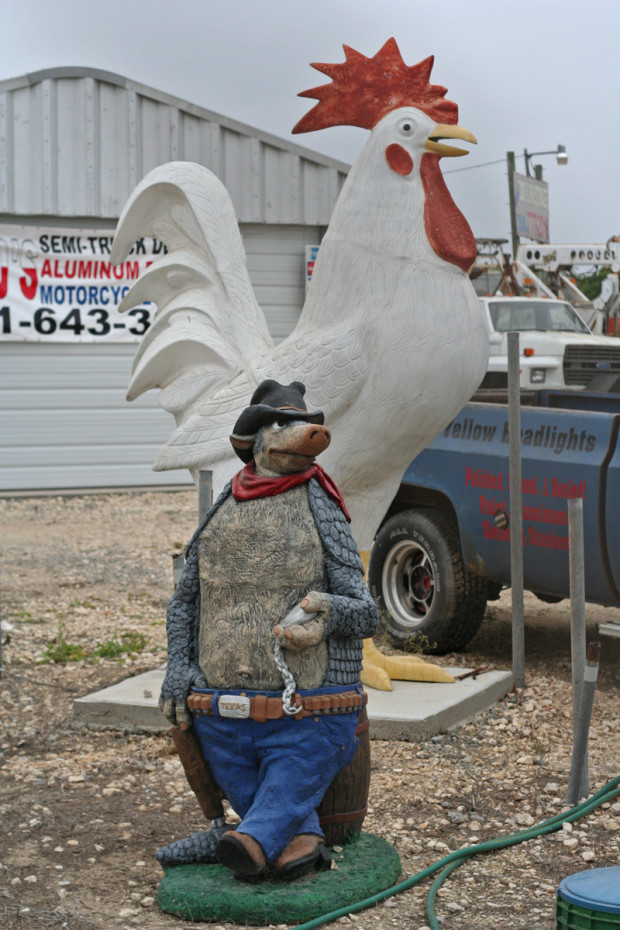 Another plus of lesser-traveled farm-to-market roads is being able to hit the brakes when you zoom past stuff like that.
I just love the sweet smell of salt air as you approach the coast.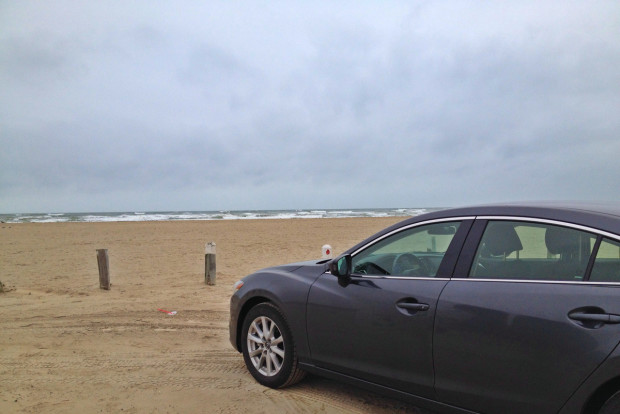 I think it was around 6:30 when I reached Port Aransas. Just five hours, give or take, after leaving The Salt Lick.
I was quite tickled to discover that Port Aransas Beach Road is actually ON the beach. I didn't know I could drive on the sand.
After greeting the Gulf, I broke out the phone, started the Booking.com app, and found myself a hotel for the next two nights. Yes, I used the phone to pay for it, too. Gotta love technology.
After checking into said hotel, I needed dinner.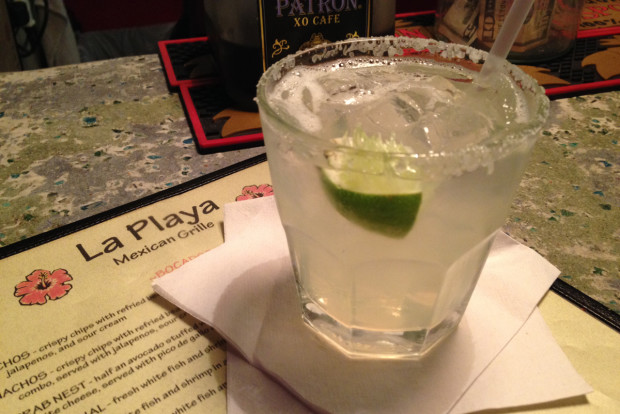 Oh, wait. I NEEDED a margarita. Dinner was just a bonus.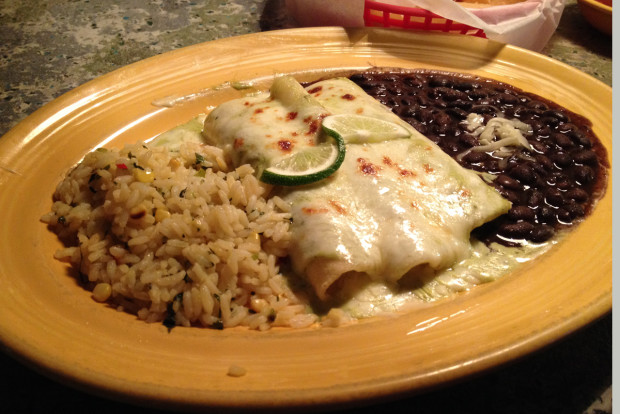 That was Saturday.
Next up? Why, Sunday, of course.
I crack myself up…
If you're interested, all of Saturday's pics are on Flickr for your viewing pleasure.