Friday started off like any other day. With a sunrise…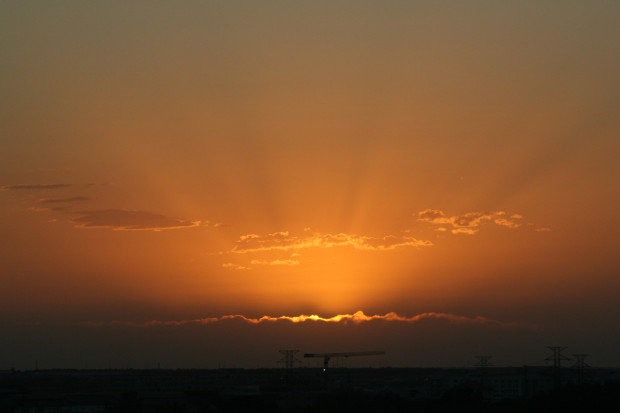 The sunrise shot above was taken moments after I realized the sun was coming up. I didn't have the camera settings right, but still like the result. I sat drinking my coffee, waking up slowly as I watched the light painting the sky. It was quite peaceful.
And the rest of the day was all uphill from there. Literally. My office is in a building in the hill country northwest of Austin. Did you see the pics I posted last week? (There was a sunset shot there, too, captured a bit later than this.)
Most of my day was spent in the office on Friday. Except for lunchtime, which is when my boss, Tracy, surprised me with a visit to Rudy's Country Store and BBQ.
It was fabulous. Seriously.
I usually stay away from chain restaurants, but Rudy's is a smallish chain that started in the hill country outside of San Antonio. If all of the locations are as good as the one where I ate, you can't go wrong. Trust me.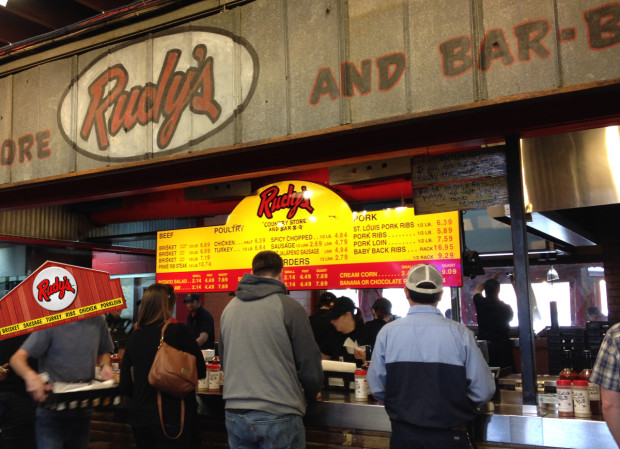 The decor mimics that of the original country store.  Notice all the folks behind the counter working at the cutting station.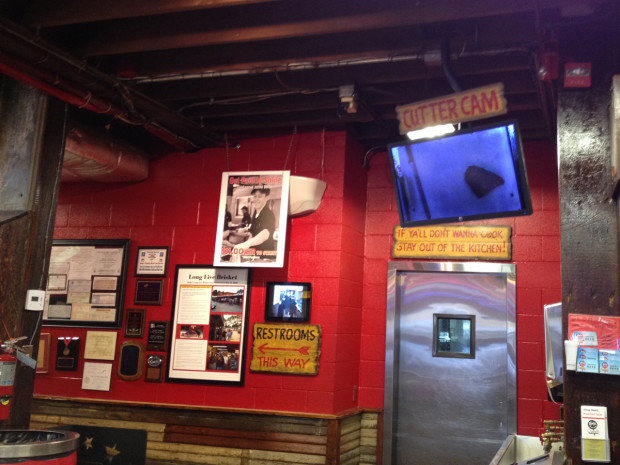 You don't order sandwiches at Rudy's. You order your meat by the pound. You can get as much, or as little, as you like.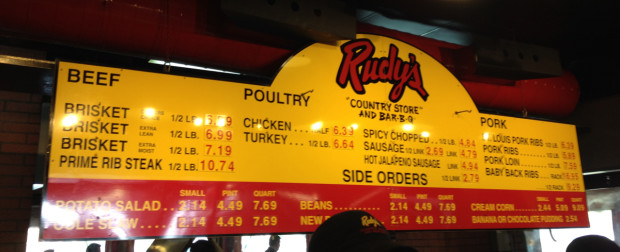 The cashier greeted Tracy and I warmly, then asked if we'd both been there before. Tracy replied by saying one of us had and, nodding toward me, one of us hadn't. So the cashier asked where I was from. After I'd replied with "Virginia," things got interesting.
The cashier hollered something like, "There's a lady from Virginia in the house and she needs a sample board prepared!" All the workers stopped what there were doing, chanted something loudly together, then commenced to preparing small portions of the meats for me to try.
Some folks would be appalled by the attention. I thought it was fun. Not only did I get to try the various meats, I had an opportunity to sample some of the sides, too.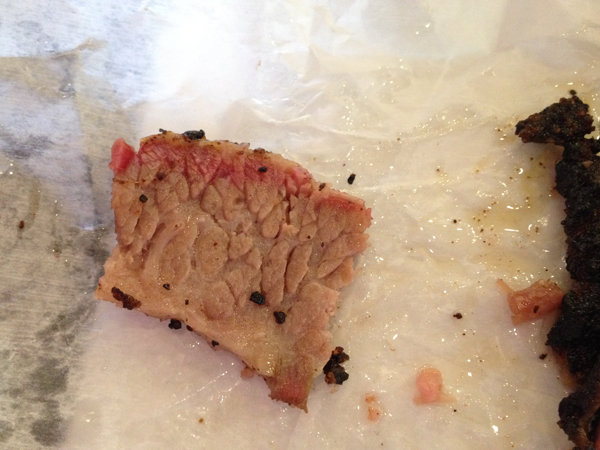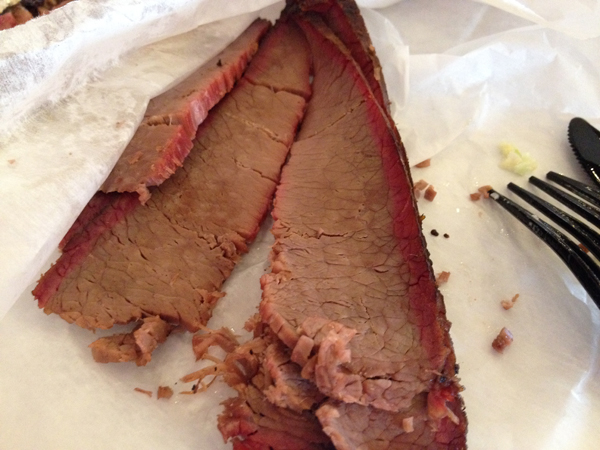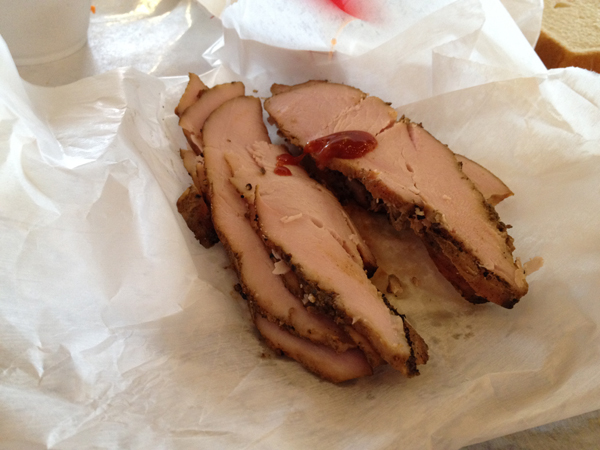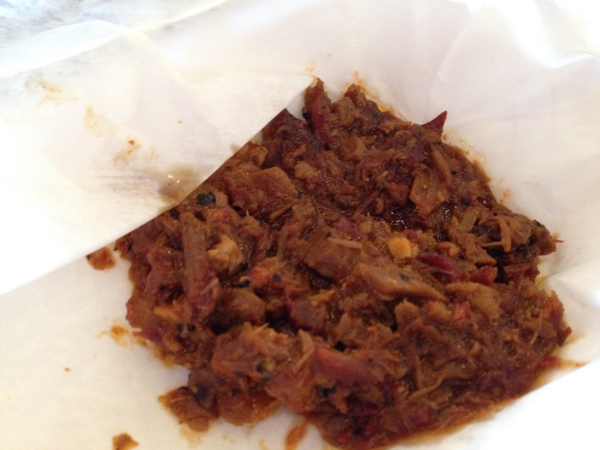 It was all delicious. I opted for a bit of both briskets and some spicy chopped. I also got some creamed corn, which is more like corn swimming in a very thick, tasty cream. YUM. The cole slaw was delicious, too.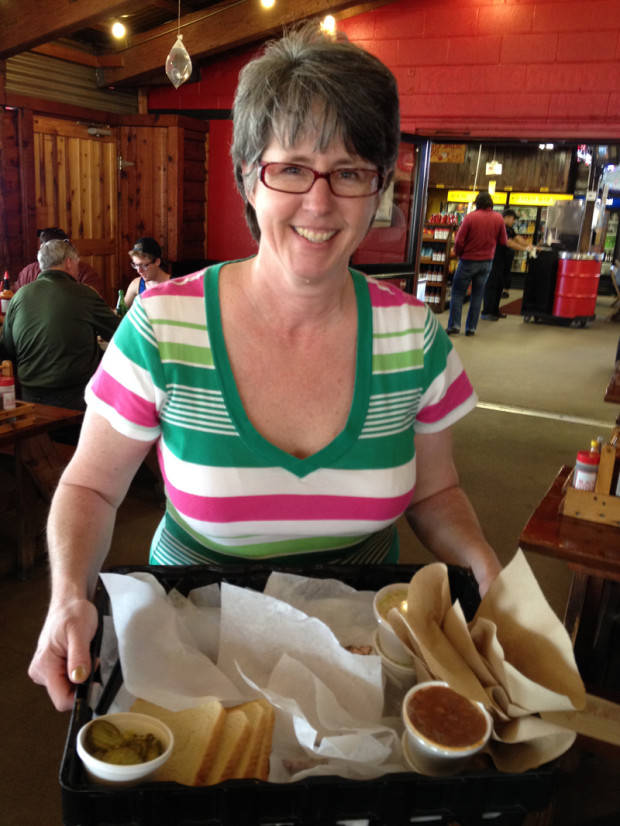 The meat is served on thick, waxed paper. The sides are in Styrofoam bowls. Sauce is on the table.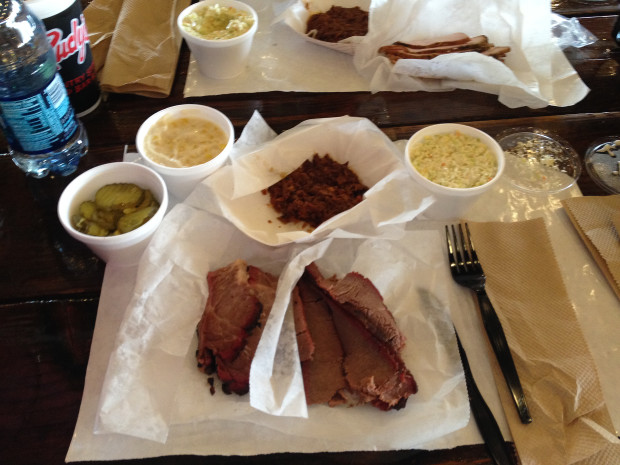 The not-so-lean brisket was my favorite. It was melt-in-your mouth tender, had a delicate smoky flavor, with a dark, peppery bark.
Oh. Em. Gee.  I was in meat-eaters heaven.
I don't usually consume that much food for lunch. I didn't finish everything (left a few bits of spicy chopped, corn, and pickles behind), but I polished off quite a bit of it.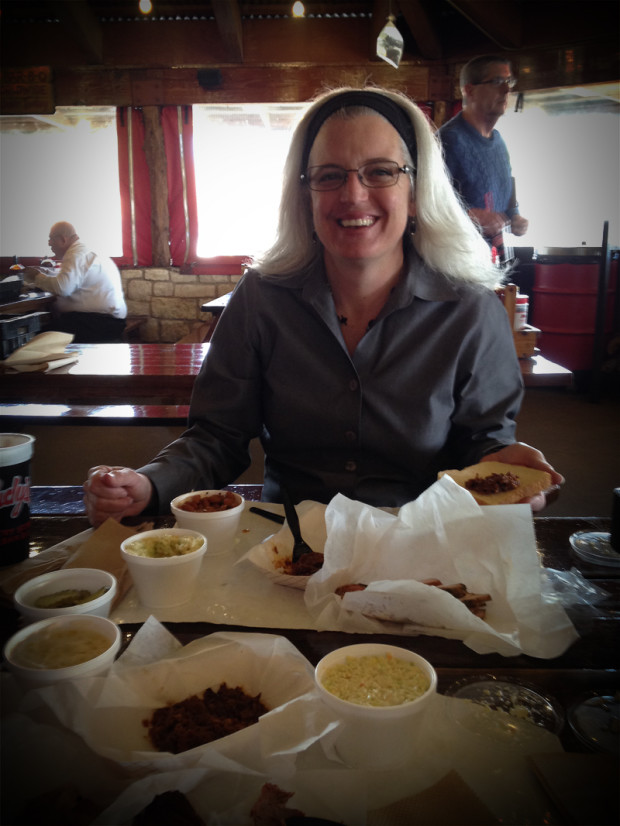 Tracy was either impressed or appalled at the amount I managed to put away.
We'd ended up sitting next to the oven access door. It wasn't as hot as you'd think. And while we were eating, we got to see a worker feeding the fire with some hill country oak.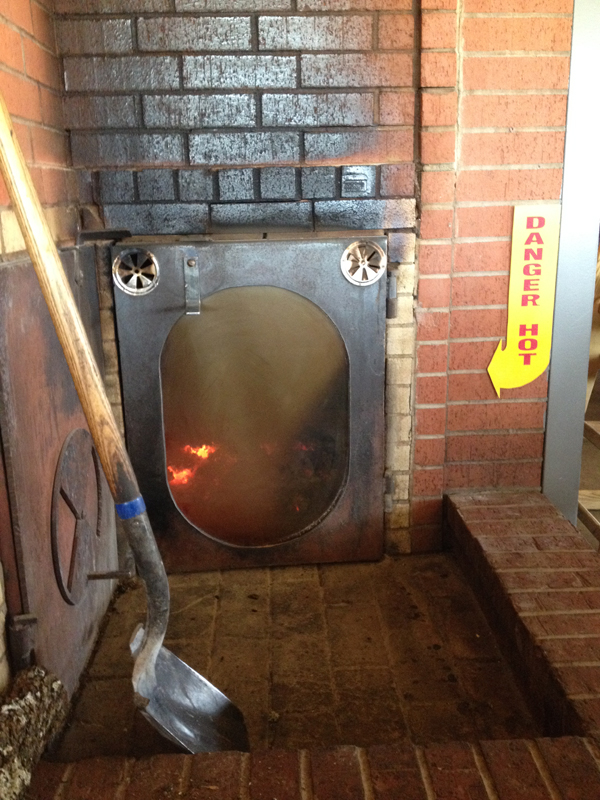 After lunch, Tracy took me to her house to meet her beautiful dogs, chocolate labs, Boca and Bella. I got a tour of her house, which is situated at the end of a cul-de-sac on one of Austin's greenbelts, and backs up to trees. It's a very peaceful, natural oasis. Lovely place. I was able to see the girls playing in their pool, too. Tracy says the dogs let people use it sometimes.
Then it was back to the office.
Tracy was driving, so I was able to capture this shot of the cliffs lining the highway near the office park.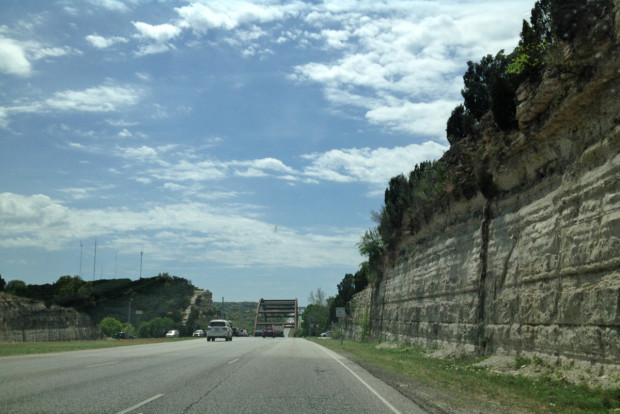 It's really a great office location. The lease is almost up, so next time I visit, I won't get to see this.
Surprisingly, I managed to stay awake all afternoon. And, on the way out, I grabbed another shot of the view, this time from the parking lot.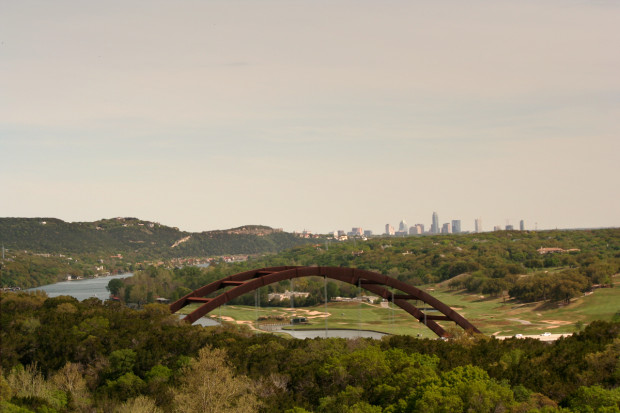 Thanks to Google maps, I found the back way out of the building complex to my hotel, avoiding a big slug of traffic. Essentially, I had to climb the hill behind the office and then follow some side streets for a bit.
It was while climbing that hill that I captured the next "million dollar view" (thus named because the houses up there are big and expensive). I actually parked and got out of the car, in case you were wondering.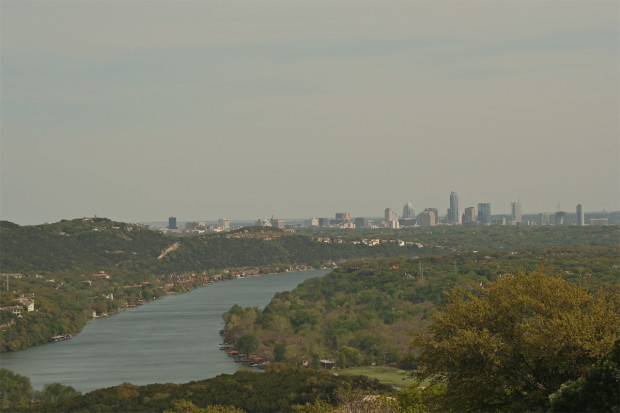 After that, it was back to the hotel to change into something a bit nicer and then into downtown Austin for the corporate event I'd traveled to Texas to attend.
It was a fun evening, a murder mystery dinner at the Courtyard Marriott. I had my camera along, but would have felt overly conspicuous taking flash pics during dinner. So I sat back and enjoyed my co-workers' company instead. Many had significant others along, too. It was lots of fun.
I really enjoyed seeing folks again. And meeting those I hadn't seen before. January 2012 was the last time I'd been in the Austin office. Reconnecting with everyone was well worth the trip.
The leisure part of the vacation will be discussed in future posts. So y'all come back now, ya hear?
But wait, there's more…
I discovered this video on Rudy's website. You can get their meat shipped to your house. The video tells you all about that and explains how to prepare the food once it arrives. Watch at your own risk; it'll probably make you hungry (if I haven't already).