Seventy-six years ago yesterday, my Dad was born. As luck would have it, I was able to finagle a day out of the office and ride to Pennsylvania for a lunch-time celebration.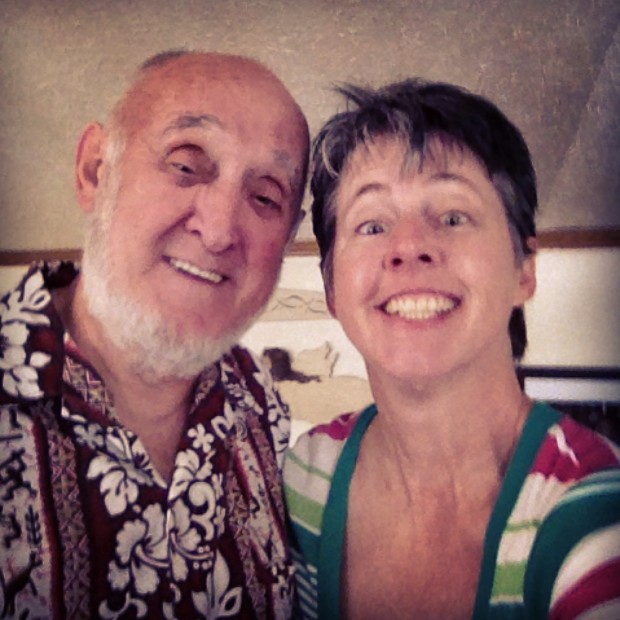 I was tickled to be able to spend the day with him. For months, I've been wanting to go up for a visit. Timing just hadn't worked out. What with all the stuff I've had going on lately — nothing bad, just busy — and his part-time work schedule.
It's so nice visiting in his "new" home. He's been there a little over a year now. He'd moved from Pennsylvania, his boyhood home, to Baltimore in 1969. After Mom's passing in 2012, it seemed like getting him back to the country was the right thing to do. It took until June of 2013 to make that happen, but it was worth the wait.
His new home is in the perfect location, a mobile home park surrounded by farmland, minutes away from the area where he grew up.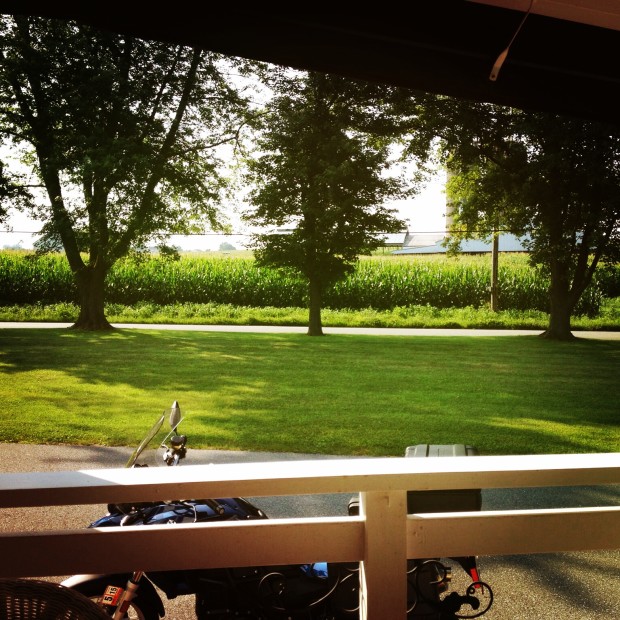 Now, he can sit on his large front porch, enjoying the breeze, watching Amish buggies ride by. Pure bliss.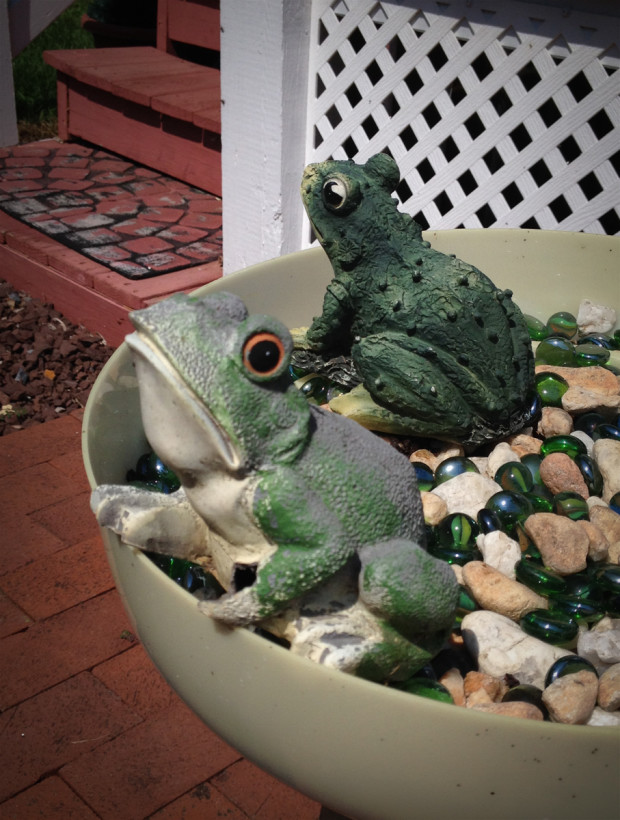 The frogs belonged to his home's former occupants, but I think he keeps them around for me.
Two of his sisters, Pearl and Bertha, live in the same mobile home community. They joined us for a celebratory birthday lunch yesterday at Dad's favorite restaurant, Gus's Keystone Diner in Mount Joy.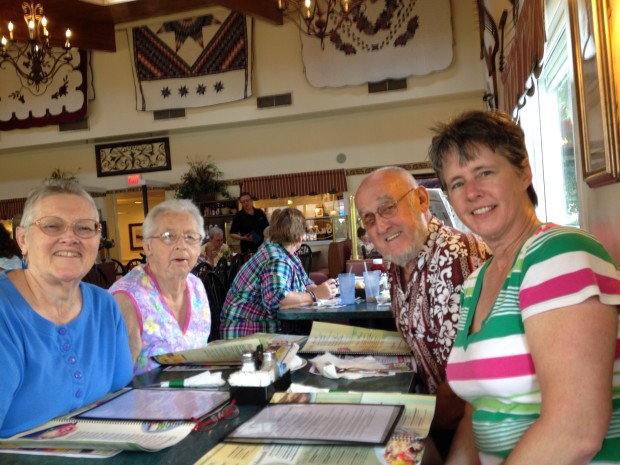 Gus's doesn't look like your typical diner, but, like most diners, it has an extensive menu and good, home-cooking-type food.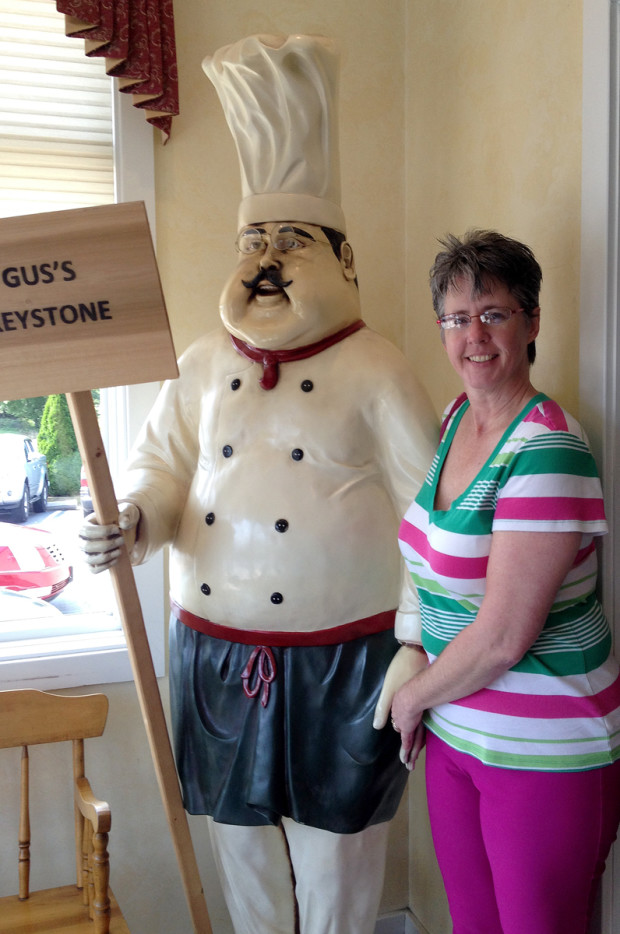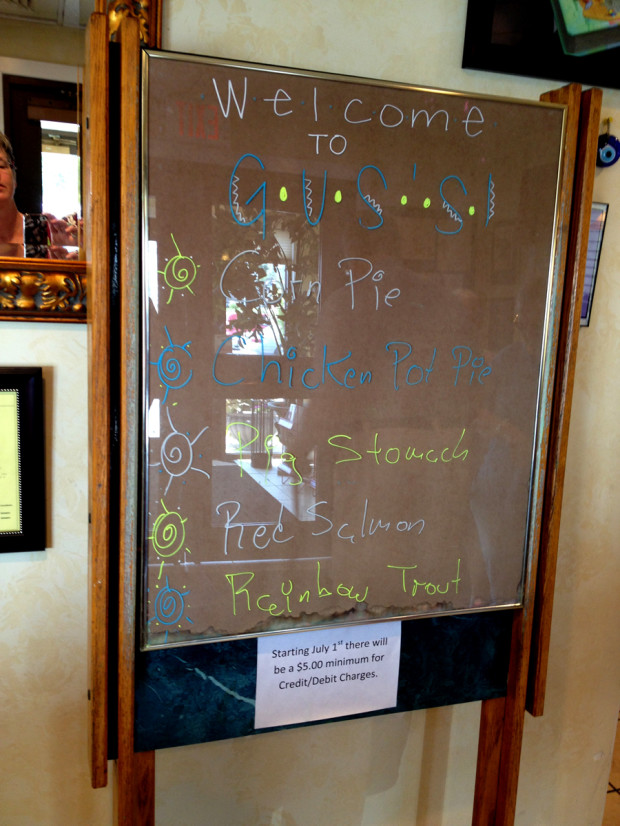 Pennsylvania Dutch-style home cooking that is. Note the "pig's stomach" special. Ugh.
And that Chicken Pot Pie isn't the stuff baked in crust that most of the world eats, it is boiled chicken pot pie. Essentially it's very thick hand-cut noodles cooked in chicken broth with chunks of chicken and potatoes. Aunt Bertha asked Dad before he ordered whether he knew if Gus puts "carrots, peas, and that other crap" in his pot pie. She says they don't belong in pot pie.
As much as I love peas and carrots, I have to agree. But Dad said it was good.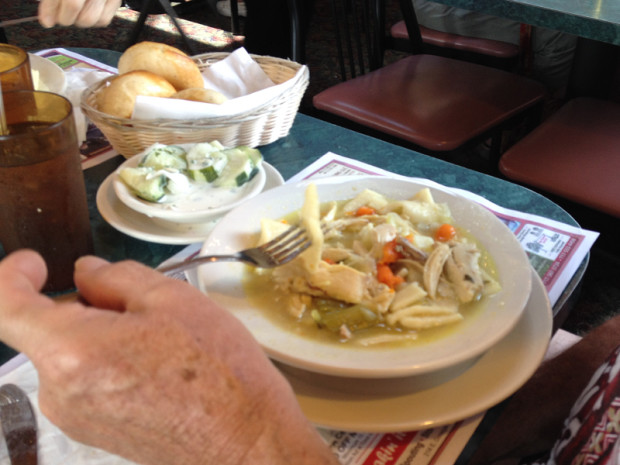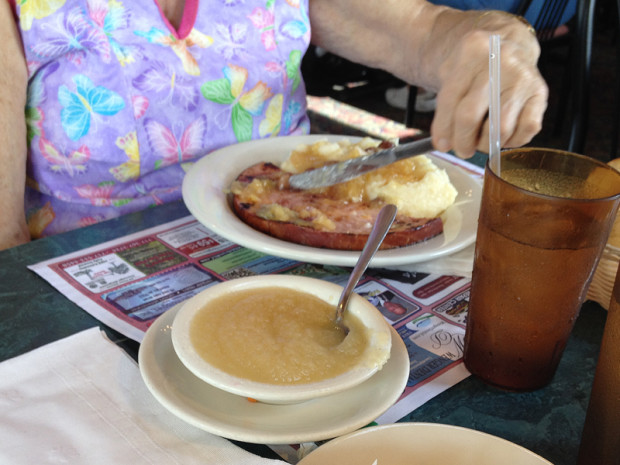 The aunts both got a ham steak.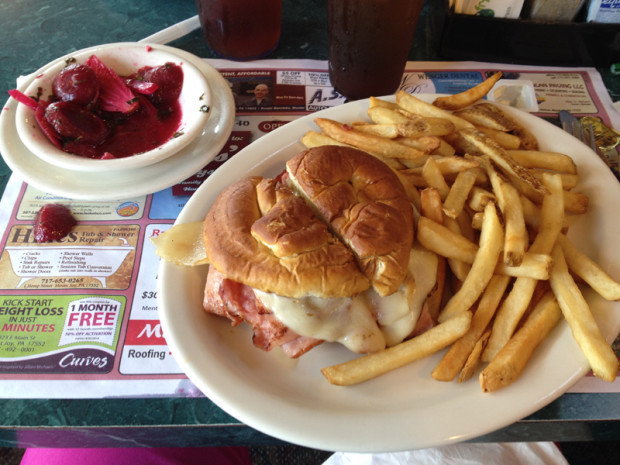 I had to chuckle when my sandwich arrived. It was heart-shaped. Can you see it?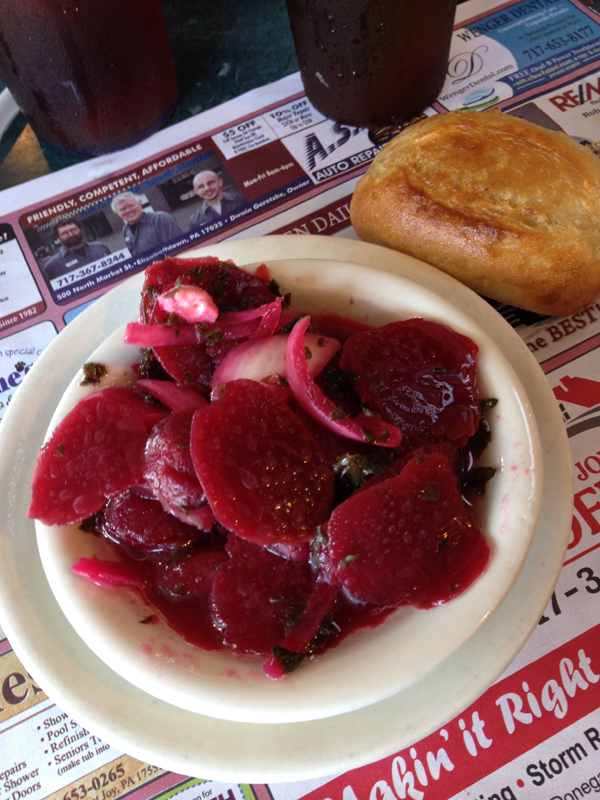 I absolutely LOVE this red beet salad Gus's serves. It is simply red beets, onion, and parsley in a sweetish red beet juice. YUM.
Lunch was delicious. The company was pretty good, too. Those three together are a hoot.
Dad took me on a little detour after lunch. The last couple times I went there, shortly after my arrival, he asked, "Did you see the tobacco?" Both times, my reply was, "I don't know. I don't know what tobacco looks like."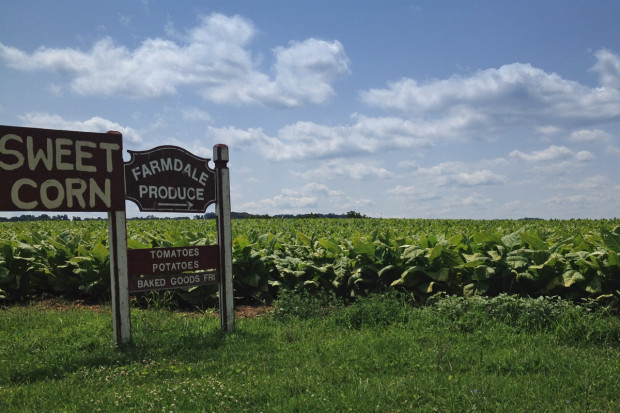 Now I can say I know what tobacco looks like. I know where the field is, too, so I can be on the lookout on future trips. According to Dad and Aunt Bertha, those plants are ready to be harvested. Their parents farmed tobacco when Dad and Bertha were young.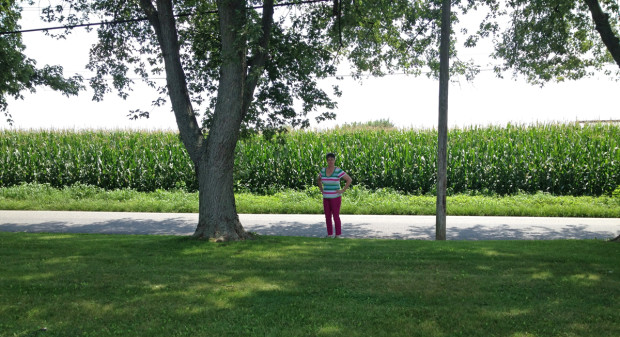 I asked Aunt Bertha to take a picture of me near the cornfield so y'all could see how tall it is. The picture doesn't do it justice, though. The scale is wrong. I bet that stuff is 12 feet tall!
Shortly after we got back to the house, I set off for home. On the way up, I took the fastest route. On the way home, since the weather was perfect, I took the scenic route.
On several occasions, I felt like I was riding through a corn tunnel.
My first stop was in Dillsburg, Pennsylvania, the home of the Pickle Man Statue. He's carved out of an old tree stump.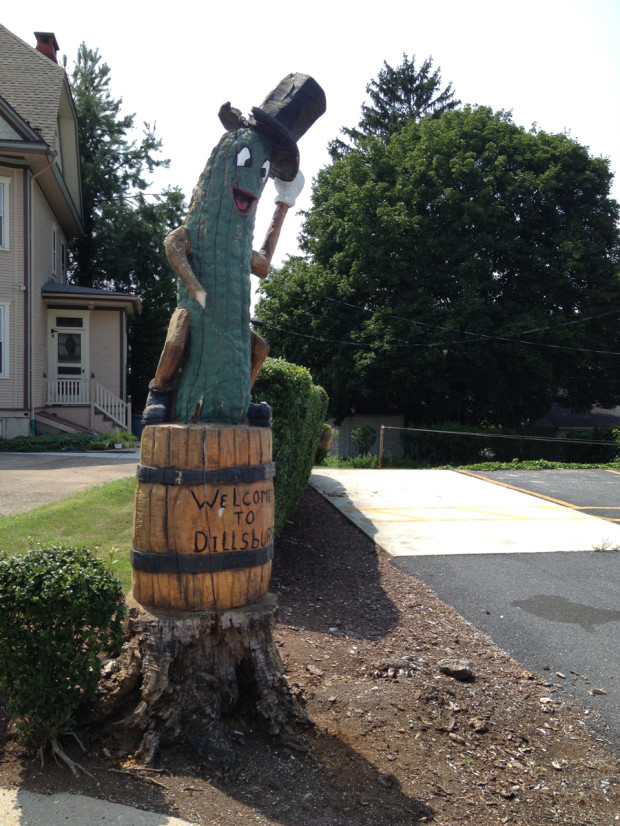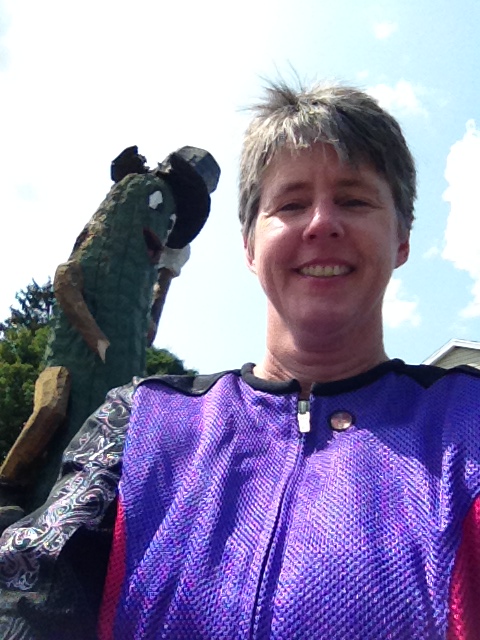 I sent Hubby a text while I was stopped. With the above selfie attached.
His reply cracked me up.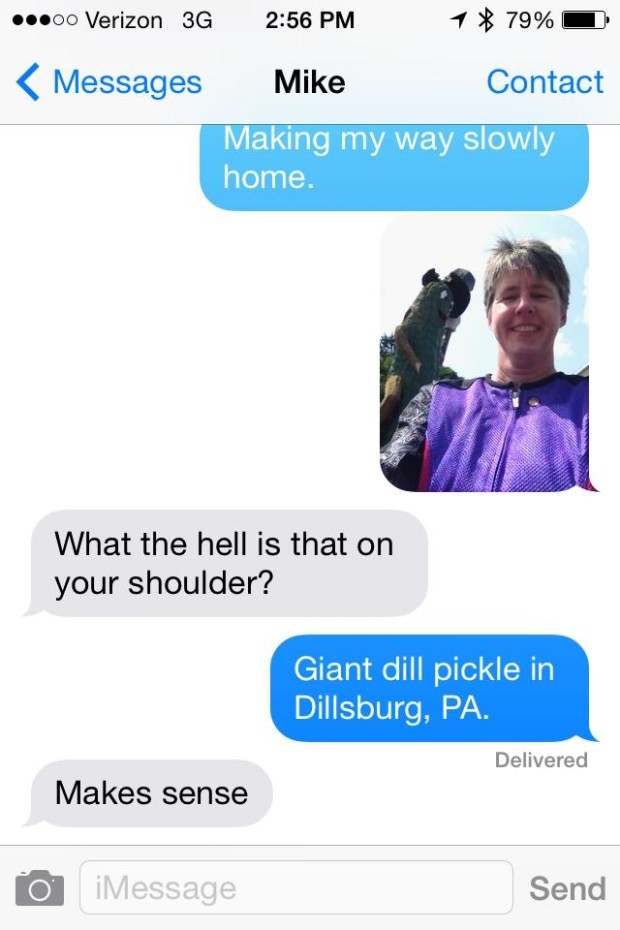 After that, I made my way home, meandering south and west along two-lane roads down through Pennsylvania, through Maryland, and finally into Virginia and then home.
I hope Dad enjoyed his birthday as much as I did. 🙂