I didn't do much research before our latest trip to Texas. But I did do some, thanks to my handy RoadsideAmerica.com phone app. It's an "online guide to offbeat tourist attractions." If you haven't visited the site yet, you should. Download the app, too. It makes road trips far more interesting.
My friend, Fuzzy (aka Rachael) told me about the site several years ago. She likes roadside oddities even more than I do. In fact, she has an entire blog catalog of Roadside Weirdness.
The research I did do involved mapping out some odd attractions to see. The first destination was Boerne, Texas, where this guy lives…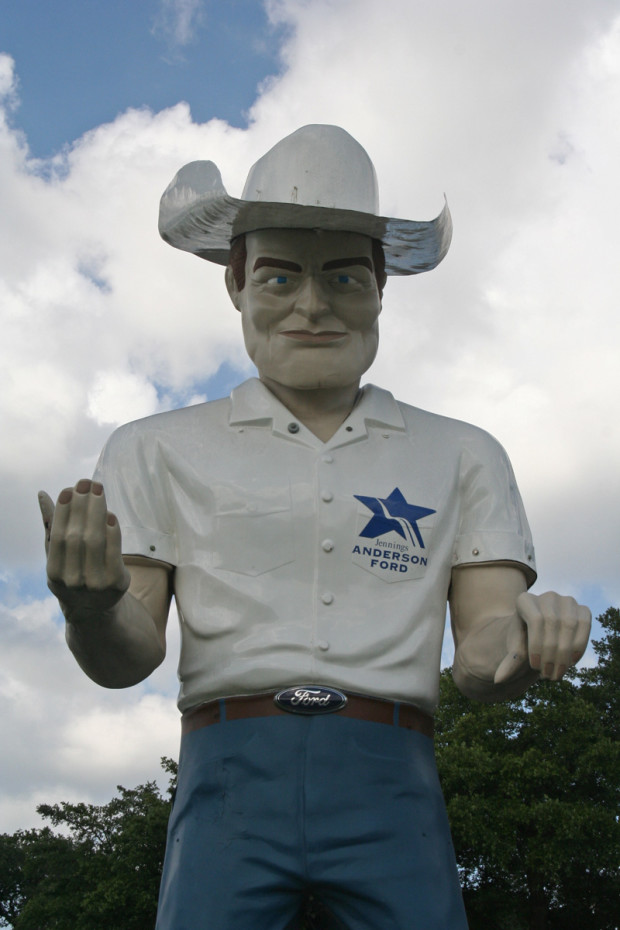 A real Muffler Man Cowboy! Apparently, he was given a makeover in 2010, which is why he looks so shiny-new. In fact, he's the nicest Muffler Man I've ever seen. And I've seen a few.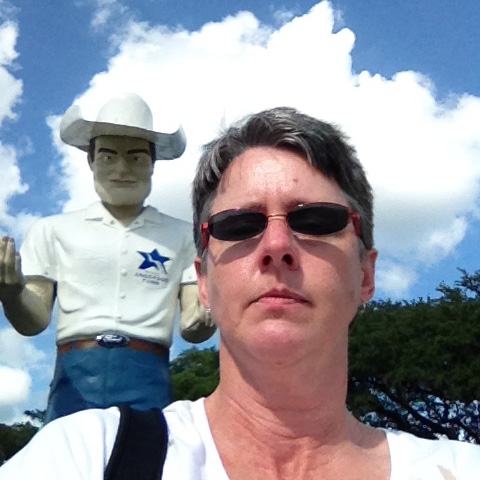 I've always enjoyed seeing stuff like that, but didn't realize so many other folks did, too. It was one of the reasons I was so tickled to discover Rachael's blog. She's a kindred spirit who enjoys motorcycles AND roadside weirdness.
In fact, it was from Fuzzy that I learned about The Farnham Colossi, a relatively local (within an hour's drive) collection of Muffler Men and other large oddities. You can read about my visit on an old blog post of mine. If you want to read more about th e folks, and the why, behind that awesome collection, you can read the RoadsideAmerica post.
Hubby doesn't share my affinity for roadside weirdness, but he's learned to just ride along and humor me.
That's love, right? I mean, it's not like I spend hours ogling the stuff. Often, I just capture a picture or two — selfies are the BEST — and then we go on our way.
The fine folks at Roadsideamerica.com have created a Muffler Man info page.
Not every large, man statue is a Muffler Man. And not all Muffler Men are male. Confused? This guide should help.
Still numbering in the hundreds, the big fiberglass figures known as Muffler Men were mostly created from 1962-1974, spreading far and wide, and still on the move. Some are lost, out for repairs, sold, or seasonally moved. And some are misidentified. Avoid the social embarrassment of incorrectly categorizing a muffler man sighting by studying his simple features and variations.
The cowboy in Boerne is a REAL Muffler Man Cowboy. And a very fine specimen.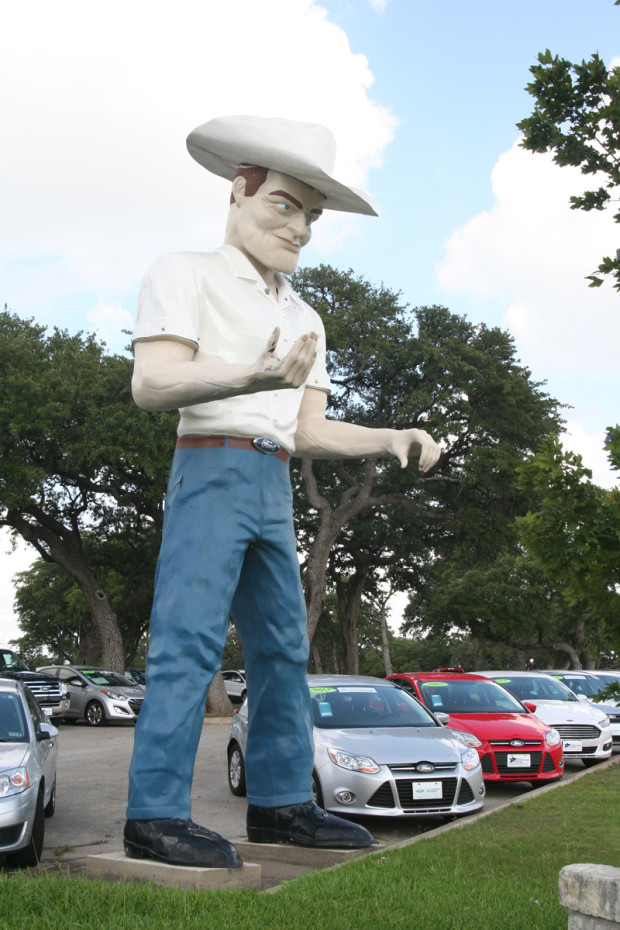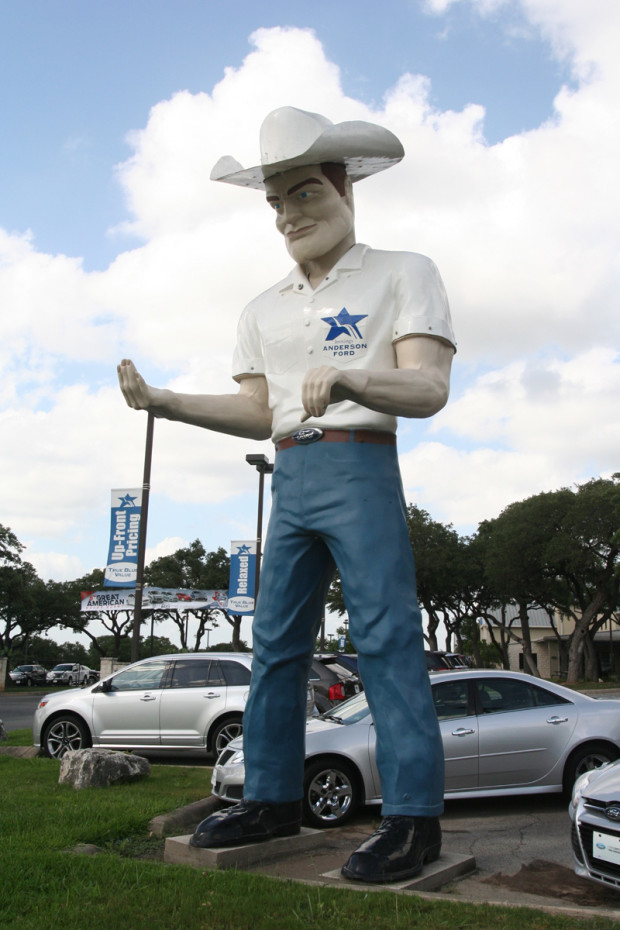 It takes a special person to love a Muffler Man enough to give him such a complete, high-quality makeover.
One of the reasons I enjoy these offbeat tourist attractions is that spotting them often takes us off the beaten path. You can't usually see them from an interstate highway.
The whole reason we went to that part of Texas and not directly to San Antonio from Austin was to see the few sights I'd mapped out in advance. After planning an attractions route, I looked in the area to see what else might be interesting to visit.
It just so happened that a yummy restaurant was situated between the Muffler Man Cowboy and our next attraction.
So we bid the cowboy adieu…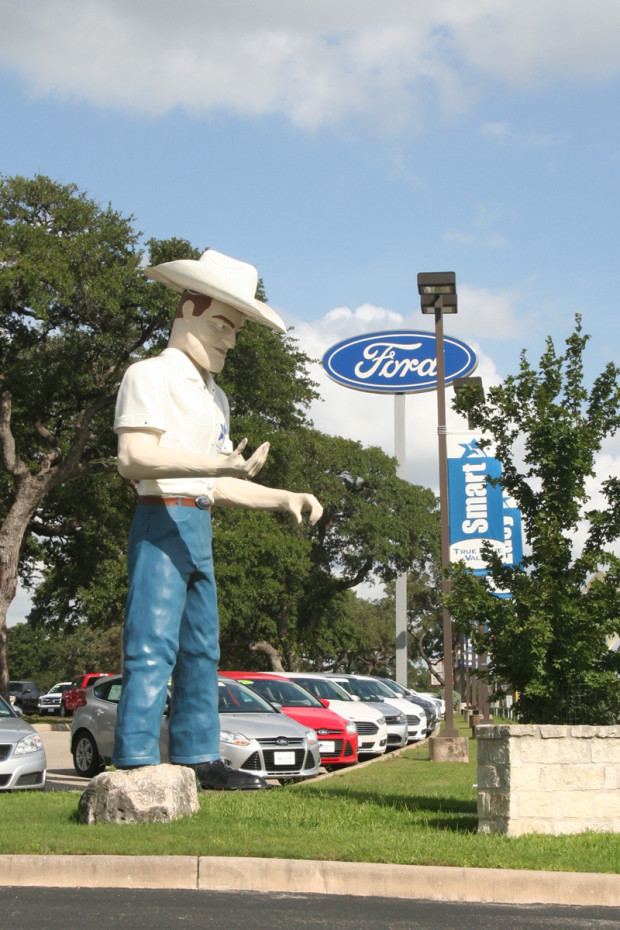 …and continued on to grab some dinner.
I'll tell you all about that in my next post.
Are these cliff-hangers making you crazy? I find that shorter posts are easier, so just bear with me, 'kay?