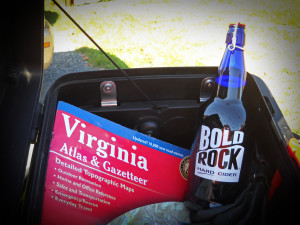 This past weekend I was supposed to go to the beach with my girlfriend, Diana, for a three-day weekend. But work has been a bit crazy, and I couldn't get off early on Friday, which would have meant for a very late arrival. Since she had to be home relatively early on Sunday, it would have made for a severely compacted weekend. And we only get together once a year. So we decided to re-schedule for mid-November.
That husband of mine had already made plans to work in his sorely neglected workshop. Which meant I had a completely free weekend.
You know what they say, when life gives you apples, make apple cider. Or something like that…
Anyhoo, a couple of weeks ago, I plotted a route for a motorcycle ride that looped south and west through Virginia. My mapping software said it would take about eight hours, not including stops. That really means about 10 hours, since you all know I like to stop.
Temps were a bit colder the weekend we'd been considering that route, so we decided to put it on hold until a later, more temperate date.
Having suddenly found myself with nothing else to do this past weekend — yay, me! — I figured Saturday was as good a day as any to do that ride. Especially since temps were forecast to be in the upper 60s/low 70s and the foliage was looking quite nice. I did shorten the route a bit, though, by opting for the most-direct route to my first stop, the Bold Rock Cidery in Nellysford, Virginia.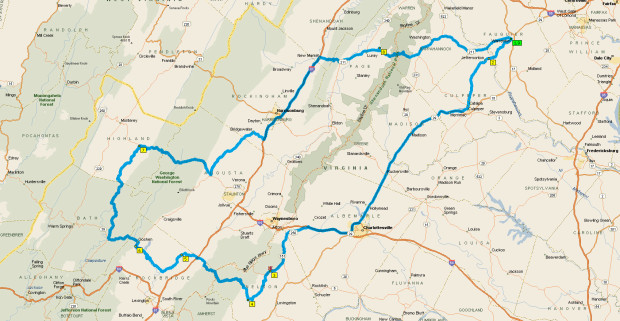 Don't worry, I wasn't going there for samples, I'd just always wanted to see the place because I knew it was in what appeared to be a pretty location.
I was right. It was gorgeous.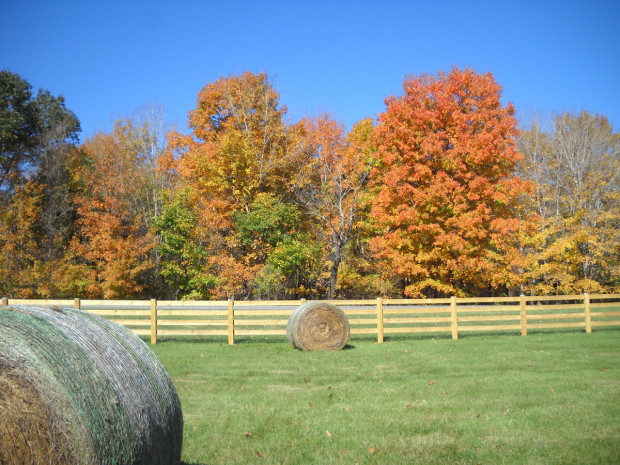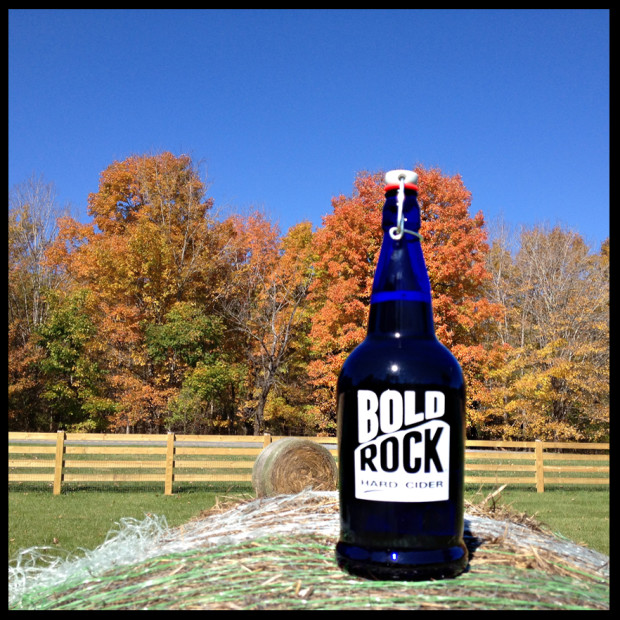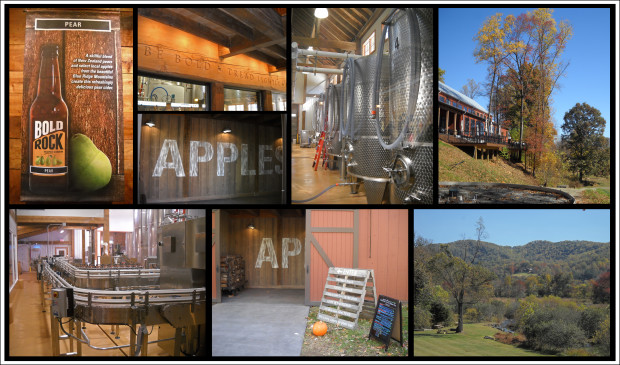 Apparently Rockfish Valley Highway is where all the cool brewers/wineries are located. In addition to Bold Rock, there were several smaller establishments I'd never heard of along with the Starr Hill Brewery and Devil's Backbone Brewing Company.
Alas, I wasn't there to visit a bunch of breweries, I was there to ride. And that's what I did.
From the cidery, I continued south on VA-151, which itself was a beautiful road, and then headed east on Jonesboro Road, CR-666, to VA-56, Crabtree Falls Highway. As it turns out, there's actually a waterfall — Crabtree Falls — along that road, which follows the Tye River through the George Washington National Forest, so it's sorta heavily traveled. Um, keep in mind "heavy" is a completely relative term when you're riding in rural areas. Unfortunately there was lots of loose gravel. Even a special warning sign for motorcyclists. But that was okay, I wanted to take my time and enjoy the lovely mountainous, many-hued, forested scenery anyway.
I wasn't dressed for hiking, so I rode right on past the jam-packed falls trailhead parking lot. I did stop a bit later, however, to snag a few pics.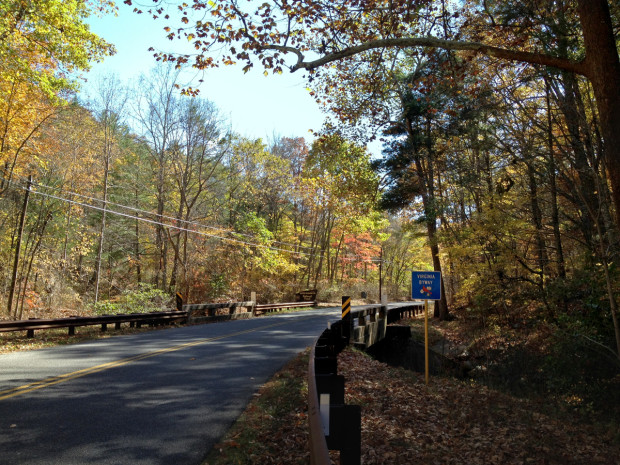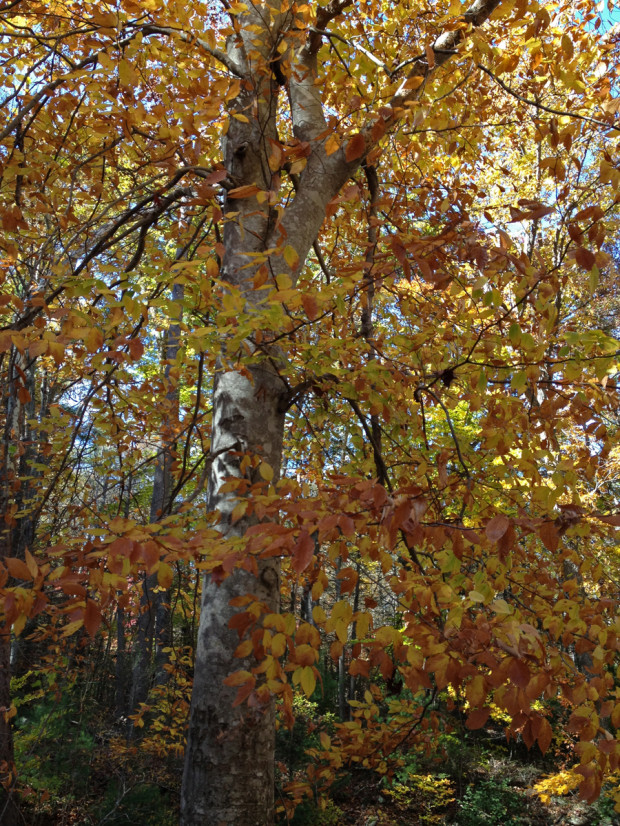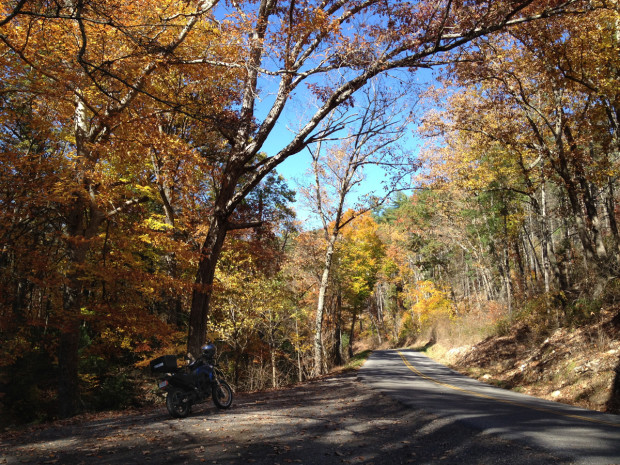 I think I was still southeast of Vesuvius, VA at that point (how's that for a town name?), but I'm not sure. I do believe it was still VA-56, though.
As I rested for a bit (and took pictures) a group of about 20 Porsches zoomed past, followed a few minutes later, by a smaller group of Mazda Miatas. I guess it really is a popular road, and for good reason.
Sorry to brag, but I have to say, I know how to pick good motorcycle roads. Another splendid stretch was VA-39. The following pics were captured near Goshen Pass, southeast of the town of Goshen, VA.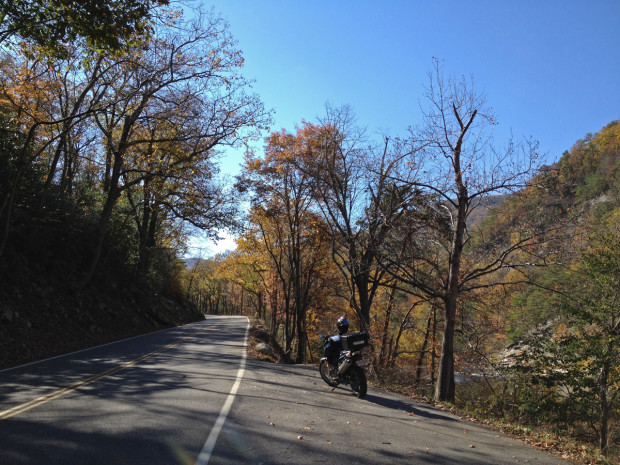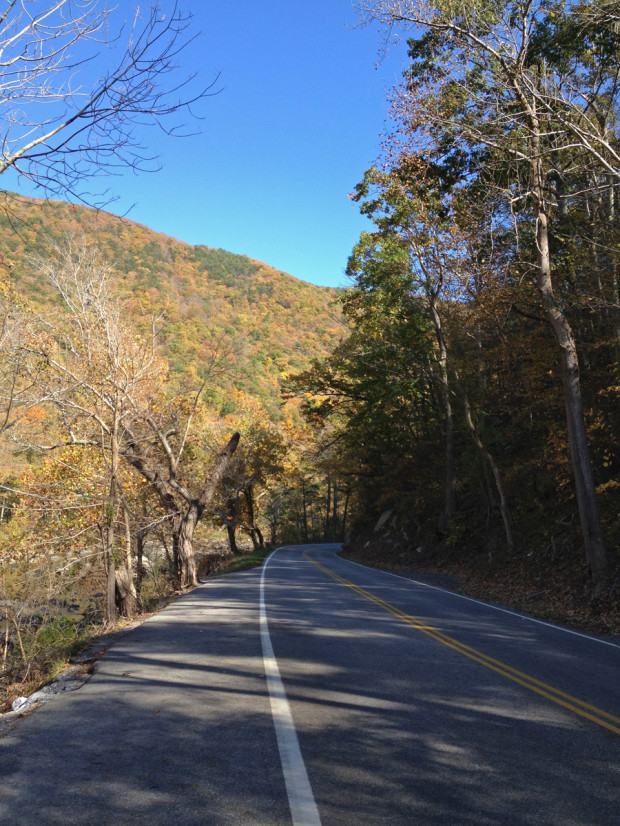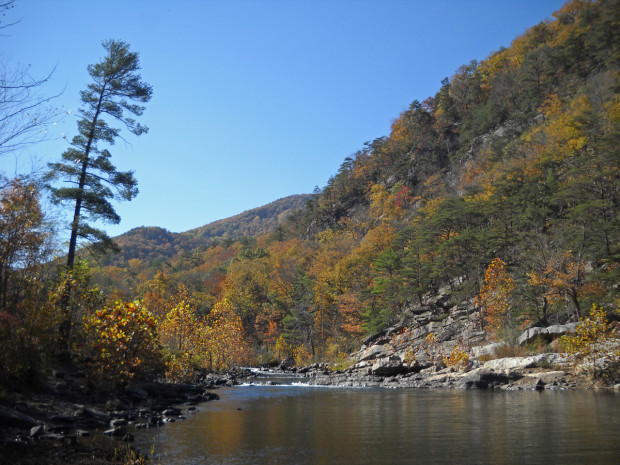 I couldn't linger long. But I will definitely visit that spot again one day.
From there, I continued west on VA-39 to CR-678, Indian Draft Road. That's what it was called at the southern end anyway. County roads like that tend to change names, and sometimes even numbers, when they cross county lines or other major landmarks. It makes wayfinding a bit more challenging, but that's all part of the adventure.
I think CR-678 was the best road yet as far as scenery goes. It was stunning. It ran along the Cowpasture River for a ways and then, at some point, it became Bullpasture River Road. Perhaps near Williamsville, which is where the Cowpasture River forked off to the right. Then the road ran alongside the Bullpasture River for a time.
I literally laughed out loud when I saw the sign proclaiming that I was on Bullpasture River Road. And I said to myself, "Next sign you see, you've got to stop for a pic."
In a very weird twist of fate, this is the next sign I saw…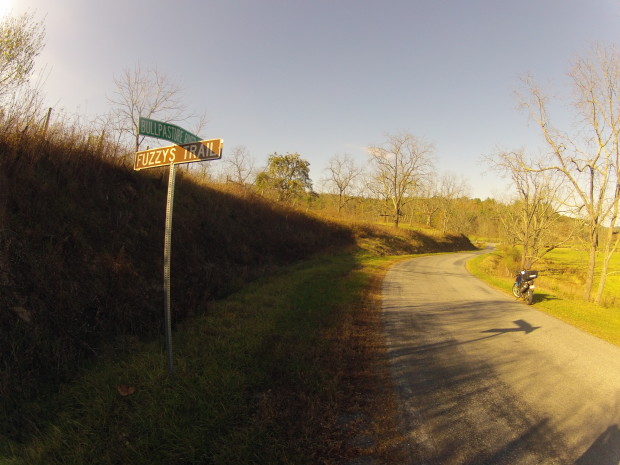 What are the odds that the very next signpost would be at the intersection with Fuzzys Path? I knew my pal, Rachael (FuzzyGalore), would get a kick out of that one.
I LOVED that road. Really. It's my favorite kind of road (what I call a putt-putt road). It winds through a beautiful valley dotted with farms and flanked by mountains. All 27+ miles of CR-678 were pure ToadMama heaven.
I'll share more pics after I've gone through them. Here are a few for now to tantalize your virtual ride-along imagination.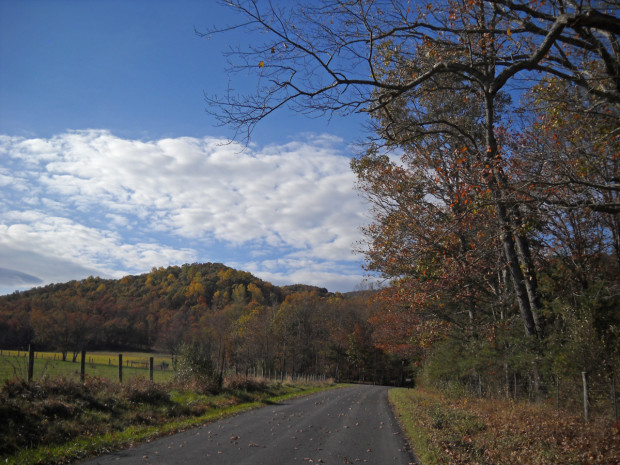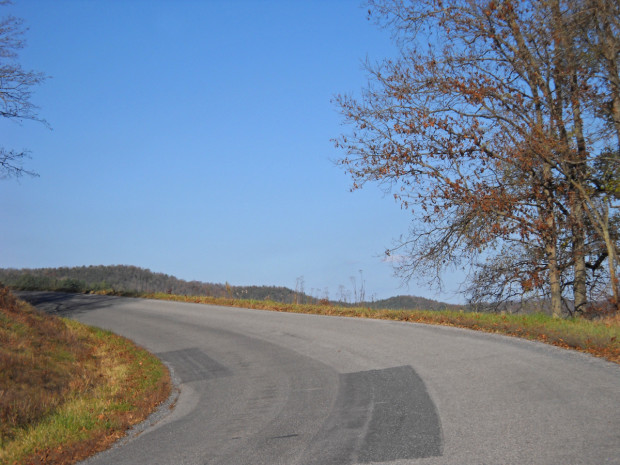 For the record, "slow" was about 45 m.p.h. This isn't the sort of road on which you want to be zipping along, carving turns. County roads aren't always equipped with warning signs, so you need to be a bit cautious as the sharp curves can really sneak up on you. Trust me on that one, okay?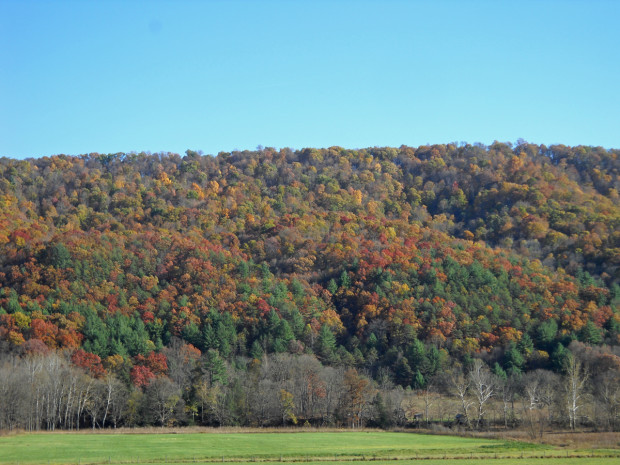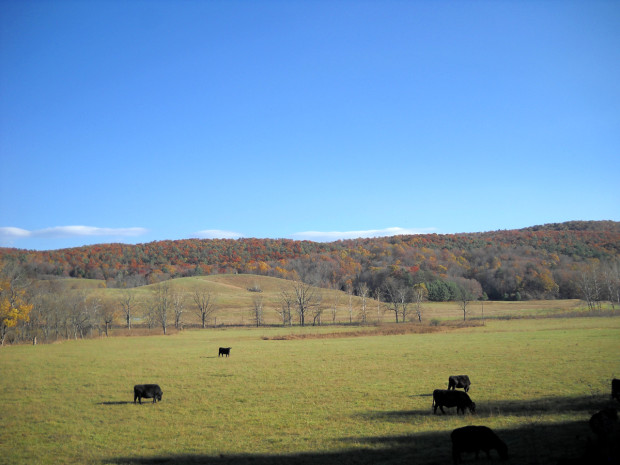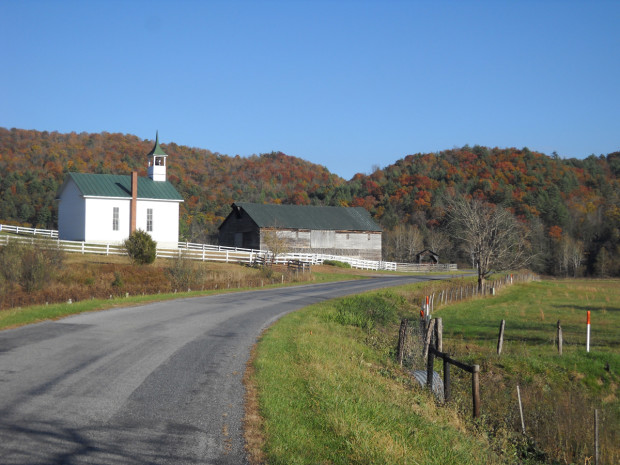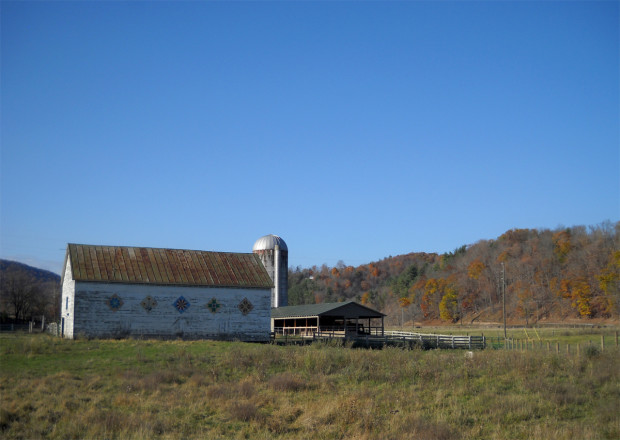 It was starting to get late and I was still several hours from home, so I had to get rolling. Lucky for me US-250, the Highland Turnpike, was next. It's a fast, super-sweet section of changing-elevation twisties that are to be savored. Quickly. I did say "fast," right? LOL.
Check the road out with Google Street View. It is NOT a putt-putt road.
Lucky for me, US-250 runs through the national forest, so I got to stop at Fort Edward Johnson for a potty break. The fabulous road continued…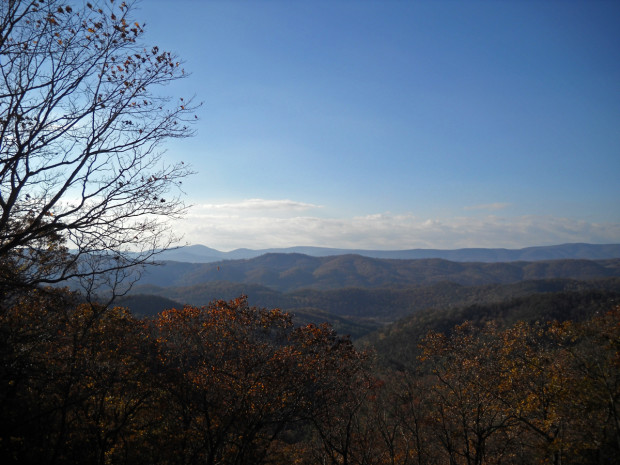 The light was fading fast, so off I went again.
After that, I only stopped one time somewhere along VA-42 south of Harrisonburg to check my text messages (Hubby checking in)…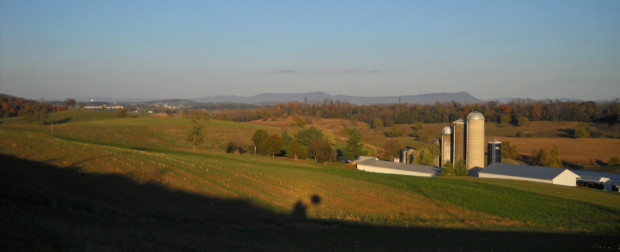 …and then I stopped in Luray for a very quick dinner. I took my good ole time crossing Thornton Gap in the cold darkness — sharp, descending-radius curves — and made it home right around 8:00 p.m., a mere 318 miles and roughly 10 hours since leaving the house that morning.
It was such an amazing day.
It's been a long time since I've set off on a long, solo adventure like that. Some people think I am bold and/or brave for doing trips like that alone. I don't agree. I think I'm normal. Relatively speaking again.
I can't imagine NOT wanting to go for rides like that, alone or otherwise. There's so much more of Virginia and the surrounding states that I/we still have yet to see.
I'm already looking forward to the next long, exploratory journey.