I had to be in Philadelphia earlier this week for work stuff. So I figured since I'd be heading north anyway, it was a good time to stop and visit with my parents in Baltimore.
I left home on Saturday morning and drove north.
Dad and I were going to go see a movie, but he wasn't feeling particularly energetic. So we just hung around visiting.
My youngest, Eric, and his fiancee, Kelsey, joined us for dinner.
That's where the crabby Dad comes in…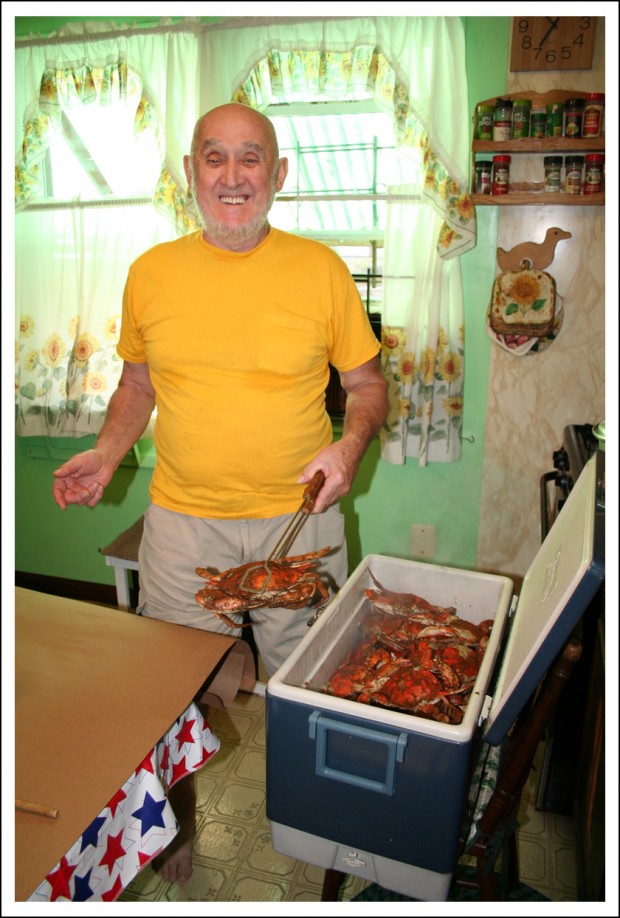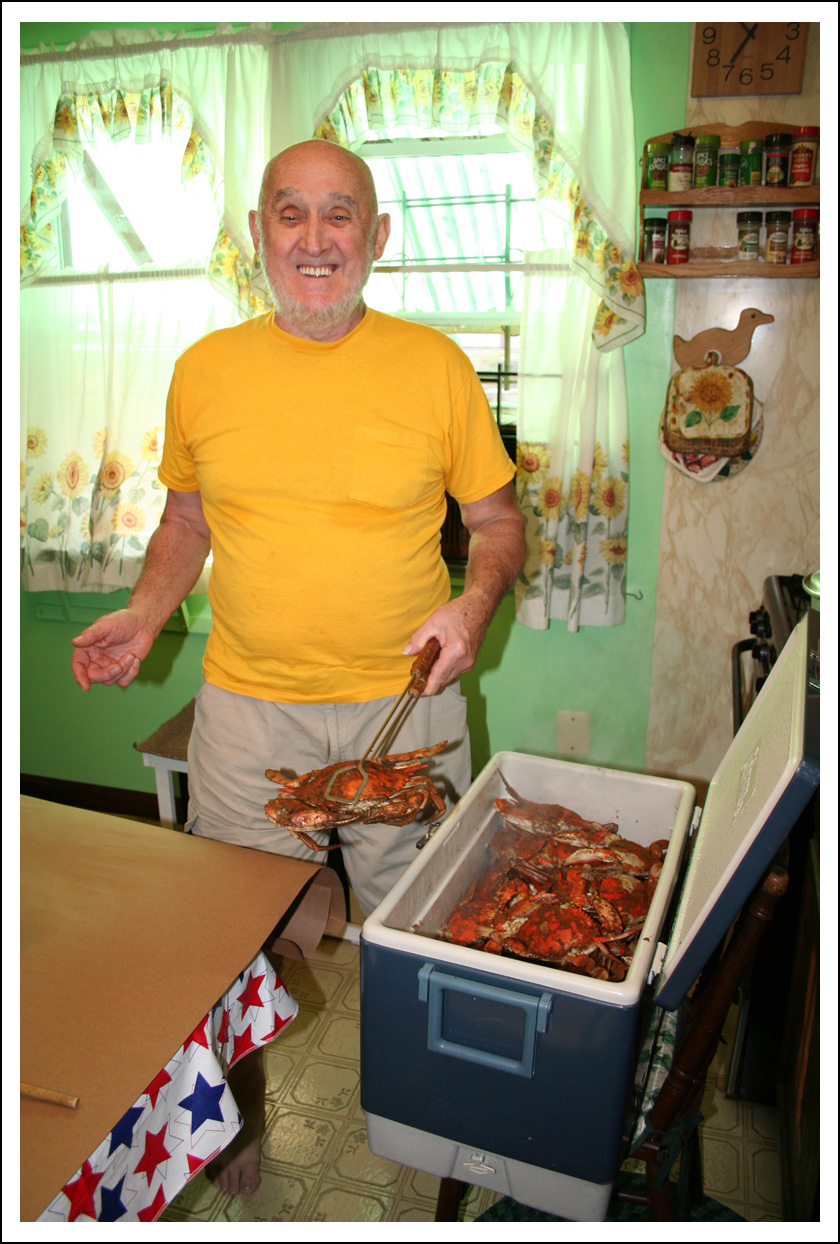 A family friend owns The Corner Crab House in Baltimore. Dad has worked there, in various part-time roles, for a number of years.
The crabs were delicious. Dad had ordered a box, which is roughly equivalent to a bushel. It contained just over 60 of the heaviest, meatiest crabs I've eaten in a long time.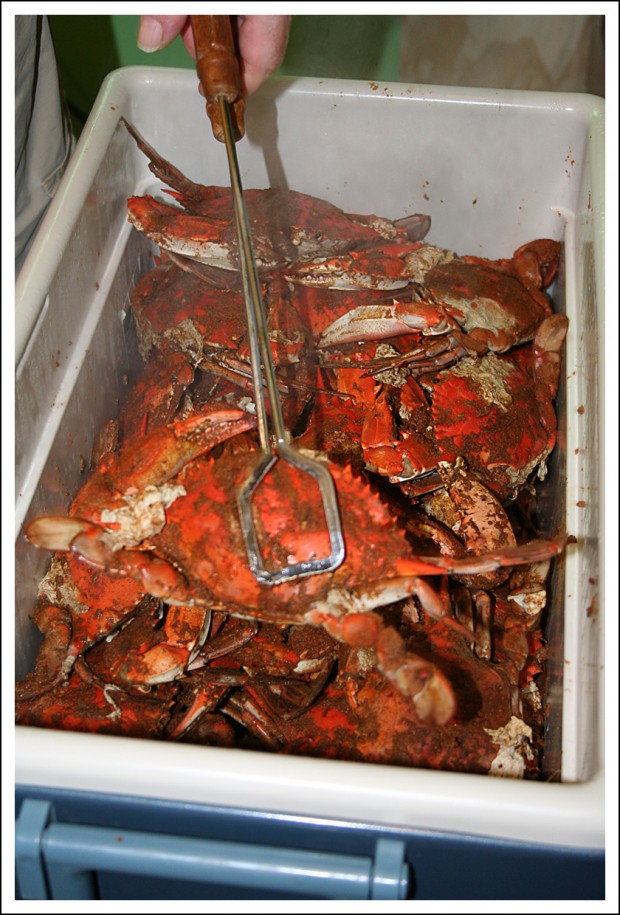 Dad had the store call him when his live crabs arrived. Then he went up and steamed them himself. He packed them into an ice chest to keep them hot while we waited for Eric and Kelsey to arrive.
Yes, the ice chest worked. He's actually done the same, transporting hot, steamed crabs to my brother's house, which is about a 4.5-hour drive away. And they stayed hot. Or at least very warm, which was just fine.
The crabs, which had been shipped in from Louisiana, were delicious. It's not always easy to get crabs in Maryland, so many crab houses and restaurants rely on supplies being trucked or air-freighted in from Louisiana and North Carolina.
Lots of people say Louisiana crabs aren't as good as Maryland crabs. Don't believe them. Those crabs were awesome.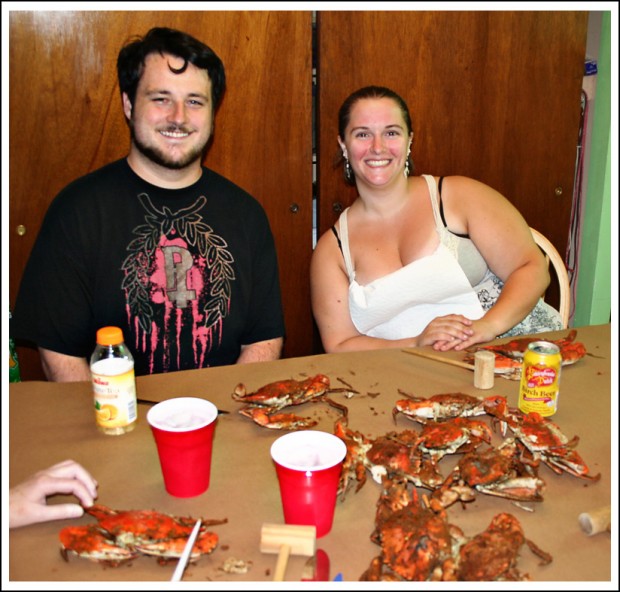 Dad only put a few out onto the table at a time to keep the crabs warm while we ate.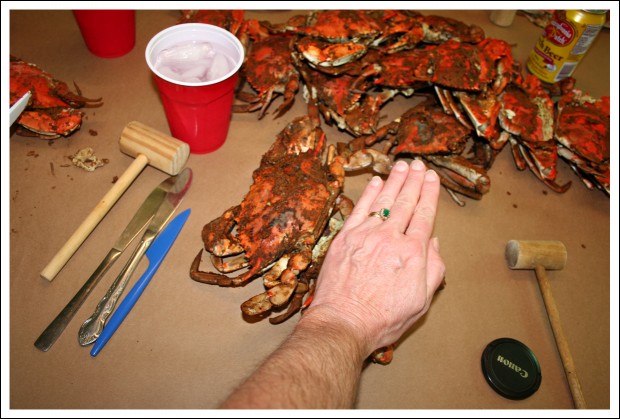 The size of the crabs isn't always as important as the weight. A small, heavy crab is much better than a large, light crab. Crabs grow through a process known as molting. If you want to understand that better, follow the link. Crabs that have recently molted and have just developed a harder outer shell don't have as much meat inside as they haven't filled out yet. Crabs that have been in their shell for awhile are packed full of meat. The shells are very hard and very thick. The darker the underside of the shell, the better.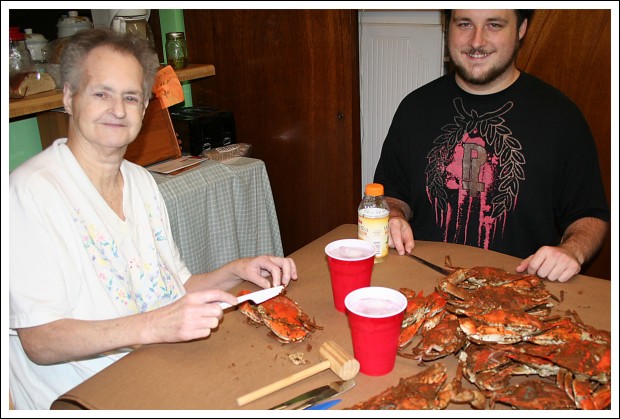 Large and heavy crabs are the best. Sometimes, when you get crabs, you get a mix of heavy and light ones. Not a single one of those crabs we were eating was light. They were darn heavy and darn good!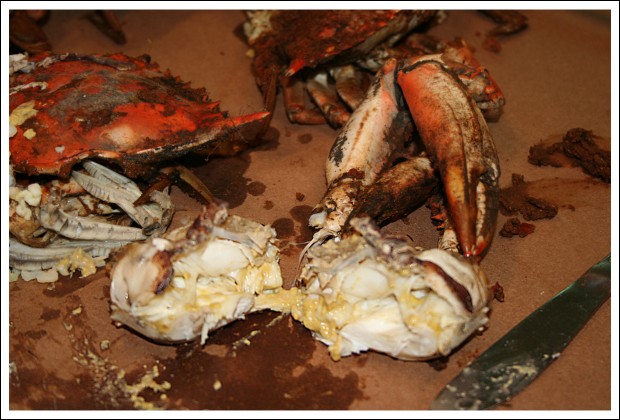 Once you remove the claws, legs, and outer shell, you have to scrape away the gills (left center) and guts. Then you are left with an inner body from which you have to extract the meat. It's time consuming, which is why eating crabs is a social thing. You just sit around chatting, laughing, and enjoying each others company while you pick and eat your crabs.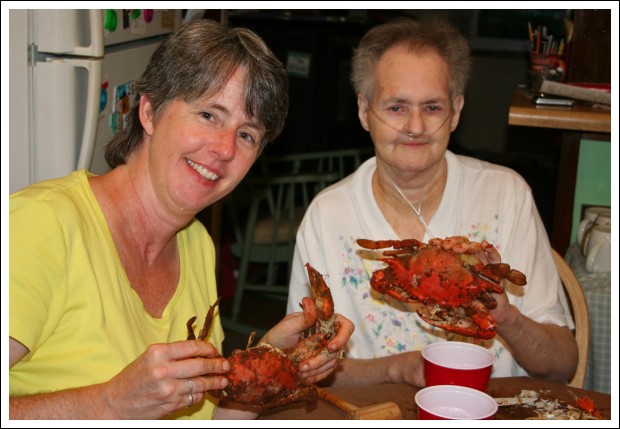 It can be messy, too. The crabs are covered in seasoning, which is poured over them before steaming to flavor the meat. Depending on how much you like spices, you can either eat some of the seasoning or just push it out of the way.
We all enjoyed the visit immensely. It's always nice to sit, chat, and catch up with the family, know what I mean?
The crabs were just icing on the cake. But that icing was really darn good!