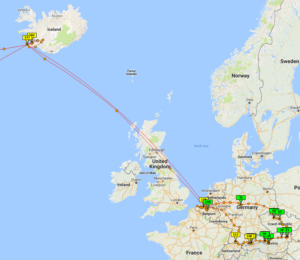 Howdy.
Sorry for yet another long absence. Hubby and I just got back from an epic road trip. Well, air and road. We went through Iceland, Belgium, Holland, Germany, Czechia, Austria, and Switzerland, and actually spent time in all of them, except Holland, which we just drove through.
Our friends Annelies and Yves were with us for all but the Iceland portion. We shared lots of laughs, drank a lot of beer, ate a lot of amazing food, and even managed to see some cool stuff, too.
I meant to update the blog at least a few times while away. Honest. But the phone app I have wouldn't cooperate and time was so limited at the end of our very long days that I couldn't muster the mental energy to figure out how to post using Hubby's Mac tablet.
Anyway, we are home. And I have tons of pics to share. I managed to post a few to FB and shared quite a few Instagram photos of oddities and such.
If you'd like to see the route map, click here. I have lots of cool pics and fun stories to share. 🙂